Bella, Lacey, Trina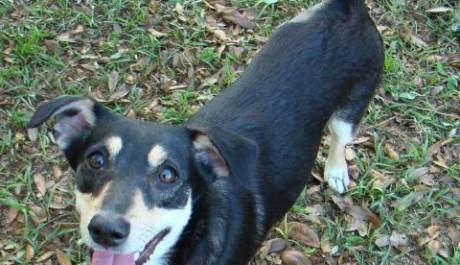 BELLA is an adorable little 10 week old Lab puppy that was picked up with her litter mates and her Mom as a stray. She was half the size of the other puppies and all were adopted along with the Mother but her. Bella was unable to walk and they thought she had a broken pelvis. Her x-rays showed she had terrible hernias. One doctor performed her hernia surgery before we rescued her and did a terrible job. This little puppy was in so much pain is the reason why she couldn't walk. Her abdomen was filled with fluids from the surgery and she was a total mess. She was rushed into surgery to repair the hernias and then tubes inserted to allow her abdomen to drain. She is still at the vet and has been there for two weeks. She will be getting out in one week and is finally able to be a PUPPY. This little bundle of energy will be ready for her new home in two weeks. We want to make sure she has healed completely before we place her in her forever home. She is the sweetest little Angel that loves everyone and will make an incredible dog for a Family with children.
TRINA is a 3 year old Dachshund Terrier Mix. She was an owner turn in. Her leg had been broken several times from a car accident the owner said and had never been treated. When she came in she was covered with fleas and had not received any medical care of any kind. Her leg was so mangled there was nothing we could do but remove the leg. We have treated her and did surgery to remove her leg. She is doing great as a tripod and is now ready for her new home. She is a sweetheart and will make a wonderful addition to any family.
LACEY and her adorable puppies were picked up as strays by Animal Control. She is a 5 year old Rat Terrier Mix. It looked like she had some unfortunate injury that cost her one of her eyes. The eye was now small and deformed because of the injury and had to be removed. Her sweet puppies were placed but she was left behind. She also had a slight case of Demodex which was easily treated along with the puppies. Lacey's eye has been removed and she is ready for her new home. She is the sweetest little girl that is now ready for her new home.
BELLA, LACY & TRINA are three adorable misfits that each needed surgery. They each came into JARM (Jasper Animal Rescue Mission) with no hope in sight for them to get better. We agreed to take the worst one and in the process, the volunteer that went to pick up one of the approved dogs could not leave without taking the other two.
All three girls are doing wonderful and ready for their new homes.
OUR WONDERFUL GIRLS ARE ADOPTED.
Learn about our other amazing animals