ARCHER (White Pitbull)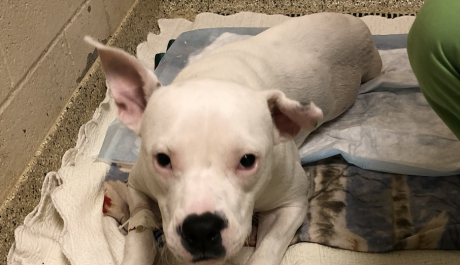 We all need a big smile on our face this morning and the video we have posted on our site is sure to do just that. Archer is doing AMAZINGLY well since his surgery. To say I have been holding my breath three days since his procedure is pretty accurate. The hospital has been having more fun with this beautiful dog. They had not done double amputations before and were optimistic but nervous. Amputation was Archer's only hope of getting rid of the infection and it turned out to be the best outcome we could have ever hoped for. Neurology is doing several sets of measurements for Eddie's Wheels so they can determine the best cart for him since Archer loves scooting around in his Drag Bag and running around in his cart. We are going to put him in the cart he has used before to see if we can make that work in the interim.
I do not know how to send a video around in a mailing or I would have put it here. Just click on his link below and click videos and you will see the new one we just received from his ER Team.

Just a reminder we are not posting on FB and will not for a while. To get updates you will need to make sure you are on our mailing list.

Enjoy the pics and video of Archer. He will be back at the Rehab Center on Friday afternoon being greeted by each of us with tears in our eyes and a smile on our face. Thanks for caring and making his Journey to Heal possible.
Learn about our other amazing animals