ARCHER (White Pitbull)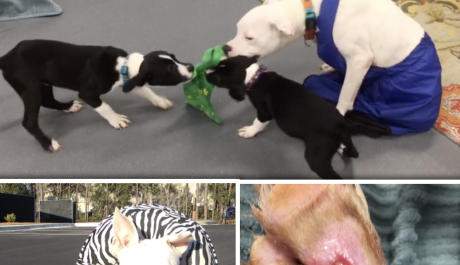 I am happy to report that we have made great progress in healing dear Archer's Wounds. For the first time since we started treating the wound that went down to his bone on his ankle, the tissue has begun to granulate. We finally have a bed of tissue that is healing and not draining. We have gone from changing his bandages several times a day to changing them every third day. He has finished his course of antibiotics and appears to be over the worst of it. He will continue to have bandage changes until the tissue has healed without any visible signs of redness or drainage.
Archer feels like a puppy again. His favorite past time is playing with Skittles puppies, Rhythm and Blues. We have special Drag Bags for him that enable him to scoot all over the yard without danger of causing any further damage to his leg or foot. I honestly believe if we left Archer outside with the puppies, he would play non-stop until the puppies would collapse from exhaustion. He is the one that outlasts them both.
I am not sure what drives this beautiful dog. All I know is that from the minute he arrived at the Rehab Center, he has gone from a desperate situation to a Life he Loves. He is always happy and gives non-stop kisses to anyone he meets. Archer may have limitations but from what we can tell, he acts like his World is PERFECT. Life is Good in Archerland. Please, watch the video we just put up of Archer chasing and playing with the pups in his New Drag Bag.
Our sweet boy has slowly gained a lot of the weight back he had originally lost. Archer is a growing pup, so we have to monitor his calories given how much he loves to play. We each love this amazing dog. We think Archer would make a wonderful member of any Family that is familiar with dogs in carts. He does not have the normal limitations since he can use the bathroom on his own.
Learn about our other amazing animals