ELSIE (Poodle)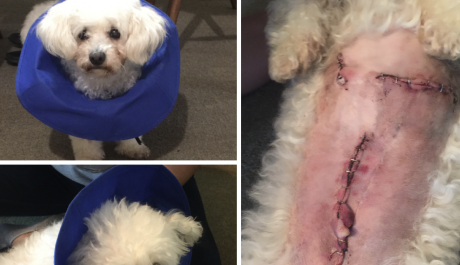 Sweet ELSIE had to go back in to have more Surgery to remove tumors on her Mammary Chain. She was in such horrible shape when we first rescued her that we did only what we felt was necessary at the time for her to get better and heal over the next couple of months. We got her through the worst time and removed the massive tumor she had been dragging around for years.
Sadly her mammary chain developed more tumors, and we now had to remove the balance of her mammary chain. Sweet Elsie's surgery was just as traumatic the second time as it was the first. The incision had to go all along her abdomen to make sure we got all of the smaller tumors that had begun to grow. With her entire mammary chain now gone, we are hopeful this will be the last of her surgeries. All tumors were sent off to be biopsied and should be back in the next couple of days. As of right now, adorable Elsie is free of any masses that were suspect for cancer.
We knew we were going to have to play a lot of catchup with the condition Elsie was in when she was rescued. It has been a long slow process, but one that has given this older pup her Life back and one that we hope will give her many years of being loved by her new Family. The other medical concern we have had to deal with is Elsie's rotten teeth. About 50% of her teeth were abscessed and needed to be surgically removed because of the growing infection she had.
Elsie is resting comfortably and can eat soft food which she loves more than anything in this World. She is healing well from her last procedures and will not have any further surgeries unless a tumor comes back in an area that is close to her lymph nodes that we feel could spread.
Dear Elsie is one of the sweetest pups that could care less about the surgeries she has had. She never gives anyone anything but lots of love and kisses. Everyone that meets her thinks she is the greatest dog. Elsie's Family hates it when she has to leave them to go to the hospital but is waiting with open arms when she returns.
Elsie's bills have continued to mount with her continued Surgical Bills. We committed to this beautiful Angel and will continue to provide her with all the medical care she should require to give her the best life possible. Please, DONATE whatever you can to make that possible. Thanks for caring about this special pup.
Learn about our other amazing animals