ARCHER (White Pitbull)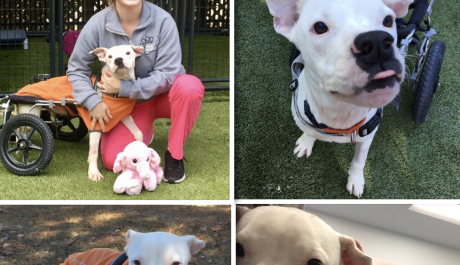 We all need to know there is a glimmer of Hope and a hint of Light at the end of a dark Tunnel of despair. That is what keeps animals going, and it is what keeps Good-Hearted people from falling into an Abyss of despair when all they see is Hatred and Abuse.
The Sun is coming up, and it looks like Archer is ready for a stroll. Our special Vet. Tech, Taylor has been working with Archer non-stop to get him to want to use his cart. His new cart was not going to be here for a while, so we went through all the old carts and came up with a great solution. Archer now has wheels that work for him and his disabilities and loves to please Taylor. That makes for a perfect combination of Love and Determination.
Please, take two seconds this morning to enjoy and smile at our dear boy walking in his cart following Taylor around. He will follow Will and me, but he gets going when Taylor is around. It took us a while to get him fitted and then it took us longer to get him to move in the cart.
The entire week was spent inspiring him to move forward on his own. He would go two inches for food but not any further no matter how many treats we put in front of him. It was only after Taylor was at the end of the Treat Trail that he decided he would go a little farther. He was started on the Training Room rubber floor and was then advanced to use his cart outside. He can now go all the way around the building, and if his cart gets up on a curve, HE will yank it free.
The other great news is that with all of the Physical Therapy and walking he has been getting, he no longer has to have his bladder or bowels expressed. He will go on his own just like a normal dog with one rear leg. Archer is still healing from all of his injuries, but his Spirits are a 1000% better. His Life of being Abused and living on his own is now becoming a distant memory that will continue to improve.
We still have a lot of bills for this dear boy and will continue to have them as long as he is still being treated. Whatever you donate would be greatly appreciated. Thanks for caring about dear Archer and all of the others we have saved.
Learn about our other amazing animals