Adorable OREO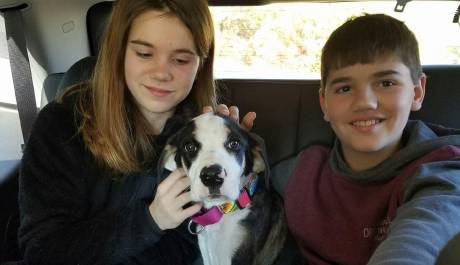 This amazingly sweet pup is one of the best little Angels that does nothing but spread Love and Joy. She has been fabulous to look after which is a surprise given the major injuries she had to recover from. Oreo has finally started to walk more normally since we removed the walking brace she had on. The brace was difficult for her to adapt to because she was missing a rear limb. We decided it was best to see how well she got around without the brace and she proved we were right. She began to walk with a more normal gait and also was not as hunched as she had been. She has to wear the soft bandage for another two weeks and then can have x-rays done to determine if the soft cast can be removed permanently. We are hoping for her sake it can.
During Oreo's stay with us, one of our favorite Adopters lost a sweet pup named Thumper that was once named Simba while she was with us. Thumper developed seizures over the last year which she had been treated for. Unfortunately, she had a massive seizure that she did not recover from and the Family had to say good-bye to her. All of us were devastated by the loss and the Family needed time to heal before they could welcome another member into their Family. The minute they saw Oreo, they knew she was the one. No one could take Thumper's place but losing their dear pup meant they had room in their hearts and home to embrace one more of God's little Angels. I believe in my heart Thumper sent Oreo to us for this very Family. Oreo is now with this wonderful Family being showered with Love and Care just the way Thumper was.
Oreo has a new home, and the Family has the Joy of having a puppy around to love on all day long and take naps with. It is a Win / Win all the way around. The other pup in the picture is Thumper / Simba, the one that passed away.
Thanks for caring and making Oreo's Journey to Heal and find Love, Possible. She now has the rest of her Life to be showered with unconditional Love and Happiness.
Learn about our other amazing animals