Mercy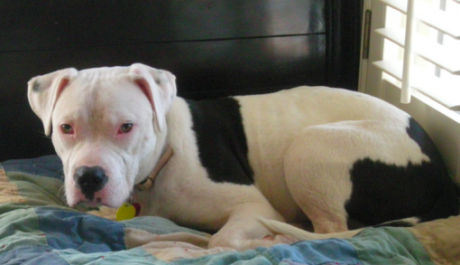 This is the saddest case I have seen in a while. Someone brought this sweet girl into the shelter in Greenville. She has a terrible case of demodex mange and a secondary skin infection. She cannot walk but will wag her tail and try to give kisses. Taryn is going to foster her and Noahs Arks Rescue is going to pick up the vet bills as best as we can.
This little one is a fighter. It will be a while before we even know if she will make it but she sure is fighting for her life. She was at the vet all day yesterday and they said they have never seen a case as bad as this. She is on lots of medicine and has had her baths to start healing her skin.
We thank all of you for your kindness, support and prayers. It is because of you we can help the animals we do.
Thank-you is such a small word to express how grateful we are.......but thank-you from the bottom of out hearts.
June 18, 2008 Mercy is improving each day by leaps and bounds. Her foster family (Taryn) has fallen in love with this little b undle of joy.
July 10,Update on Mercy
I have added new pics to Mercy's last update. She is doing well and is best buddies with my Boston Terrier rescue, Mr. Jiggles. Mercy is a great dog, and gets along with male and female dogs of any size. She loves my 7 year old daughter, too! She doesn't chase my cat, either. Mercy's hair is growing back and she is fuzzy now. Mercy goes for her checkup at the vet tomorrow and will probably be spayed within the next few weeks. She will then be ready to go to her furrever home! If you would like to adopt Mercy, please contact me at [email protected] Vet references will be checked and a home visit will be done. Transport is available to the Northeast and in any direction within an hour of Greenville/Greer, SC. Thanks for all of your help, support and prayers.
Learn about our other amazing animals