Peach Pit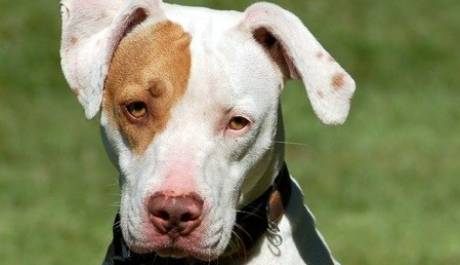 This sweet adorable six month old pit was picked up and brought to DeKalb County Animal Control with a huge abscess on her neck from what appears to be bite marks from another dog. She is DEAF and cannot hear the warning signs from other dogs is what we think happened. She was scheduled to be euthanized when we stepped up for her. She has had a drain put in her neck to allow the fluids to drain and is being treated for the infection, spayed and brought up to date on all of her vaccinations. She is HW negative. She is just one more sweet little pup that was in the wrong place at the wrong time with no one to look after her. She loves everyone and is great playing with other dogs. She will make a wonderful family pet because she gets along so well with everyone. She is a beautiful pup that will grow into a beautiful dog with Peach Pit markings.
This special girl loves to play as you can see from all of the above photos.
Peach Pit has blossomed into a beautiful very special girl. She has completed her obedience training and is ready for her new home. She needs to be with a submissive dog because she is deaf and cannot hear the warning signs from a dog if they get tired of her playing with them. We need her to be with a dog that will walk away when they get tired of her wanting to play. She is a Lab / Pit mix. More on the lab side with the long legs she has. We love this sweet girl and want her to go to a home that will love and care for her and keep her out of harms way because of her deafness.
Learn about our other amazing animals