Twix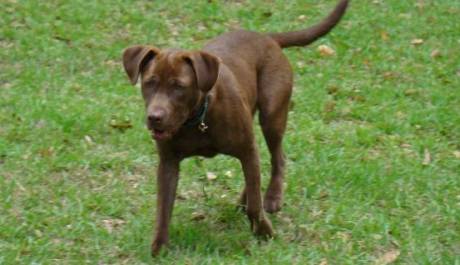 GREENWOOD, SC....Adorable TWIX is a 12 week old Chocolate LAB Mix that was picked up as a stray and brought to the Humane Society of Greenwood. She was seen wandering around a neighborhood in terrible condition, looking for food and shelter. She is emaciated and covered with terrible sores that are all infected. She has Demodectic Mange and secondary infections from having mange for so long untreated. Her ribs are sticking out, her legs and paws are all swollen and she has all the normal parasites a little unvaccinated puppy would have that was malnourished. The said part is that this puppy had a collar on without any identification. She once belonged to someone that didn't care about her well-being. We don't know if she was kept in this condition and then dropped off in this neighborhood or if she has been on her own for a while. It looks more like she was dropped off since no one had ever seen her in the community before. The thing we do know the most about her is that she is a typical, adorable puppy that loves everyone. All she cares about doing is playing and loving on you. She will give you kisses all day long, if you will let her. She will be at the vets for several weeks while she is recovering and getting over her infections. She is eating well now but is not able to keep all of her food in because of all the parasites she has. That is normal and should stabilize over the next week. She will be a beautiful dog when she is all healthy again. When she is able to be adopted we will make sure she has the best home that will love, nurture and protect her for the rest of her life. She will be a great family dog for anyone that has kids.
UPDATE....WE HAVE RAISED OUR CHIP-IN BECAUSE TWIX
JUST BROKE WITH PARVO AND IS VERY SICK. PLEASE. HELP
US WITH ALL OF THE MEDICAL SHE WILL NEED TO SURVIVE.
Our sweet girl TWIX is terribly ill after fighting the PARVO. Her white blood count is down to zero which is what parvo does. We are doing everything we can to save her. Right now we need lots of prayers for this adorable little pup.
TWIX is finally showing signs of improvement. Her white blood count is almost normal which is incredible. She still has a ways to go but is on the upswing. She is still in quarantine to contain the PARVO and will be there for another week.
Sweet, adorable little TWIX is slowly getting over the demodex but still has a long way to go. She is so smart and loving. The foster adores her and is always bragging about how she is the smartest puppy in the world. She is growing a lot and has a lot of new fuzz coming in. She plays all day long as you can see from the picture below. She is all tuckered out.
Learn about our other amazing animals