ANGIE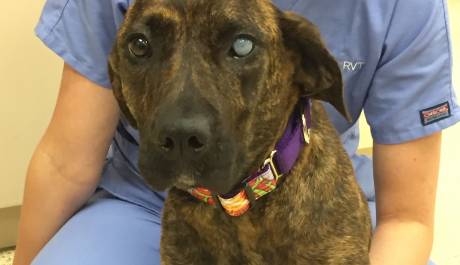 Sweet Angie has been in the Hospital for the last month. She became worse while in the Hospital in Charleston, and we decided it was best to get her back to her Neurologist, Dr. Bob Bergman in Charlotte. It has been a balancing act to get her meds under control so she can function and walk. Without the Prednisone, she loses control and has a very difficult time walking. Dr. Bergman put Angie on a Chemo injection that has been helping her system fight the GME along with a small dose of prednisone. The formula appears to be working. Angie can walk comfortably without stumbling and will slowly build back the muscle mass she lost.
The other issue we have been dealing with is that dear Angie has heartworms and has been under the care of a Cardiologist at Carolina Veterinary Specialists (CVS). Her Echo shows that her right atrium was mildly enlarged, and there are multiple heartworms observed in the right branch of the main pulmonary artery. We have Angie on a strict protocol to kill the Microfilaria in her system and then do a fast kill with the Cardiologist in two months. She will be on strict exercise during this time.
The other issue we have been dealing with is the parasite overload in her gastrointestinal system. Angie has been treated a lot since we have had her but still comes up positive for parasites. She had to remain in the hospital to regulate her blood and electrolyte values. When an animal's body is being attacked by so many different parasites, it sets up the body to develop an auto-immune response. We are doing everything we can to keep her body stable and supplement it during this time, but it is very difficult.
Angie is the sweetest girl that loves everyone. We feel terrible that she is still in the hospital, but unfortunately, this is where she has to be to get better. The good news is that most of her parasites are gone, and her Spirits are picking up. She has felt terrible for weeks and is finally reaping the benefits of the 24-hour care she has ben receiving. We have a lot of bills for Angie that we have not been posting for because we have had so many other critical care cases. Angie is finally doing better, and we now need to pay her bills. Please, Donate whatever you can so her bills will be paid off when she can leave the hospital. Thanks for caring and making her incredible Journey to Survive and Thrive possible.
Learn about our other amazing animals