Bebe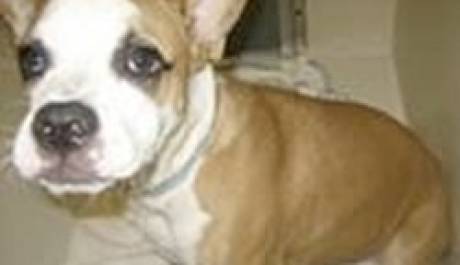 Ms. Bebe was rescued from Charleston Animal Society. She is an adorable 4 month old BOXER mix that weighs about 33 lbs. She was brought in with a badly broken rear leg and was in danger of being euthanized because no one wanted to take on the cost of fixing her leg. Her owners didn't want the expense. Instead she was cast off in a high kill shelter where she would have been euthanized. According to the owner she was jumping off the bed and broke her leg. Her leg is broken in two places. It must have been a really HIGH bed.
June 17, 2009
Ms. Bebe has finally gotten the staples out and is doing wonderful. She will have to take it easy for atleast 4 weeks so she doesn't re-injure her leg. She is such a tiny little squiggly girl that all she wants to do is play. We found a wonderful family for Ms. Bebe and they just adore her. We will post new pics as we get them.
July 6, 2009
Ms. Bebe is now called Shadow by her new family. She is one of the sweetest dogs that just loves her new home. She is still being restricted because of her surgery but will get to run around freely in a couple more weeks.
Learn about our other amazing animals