BINDI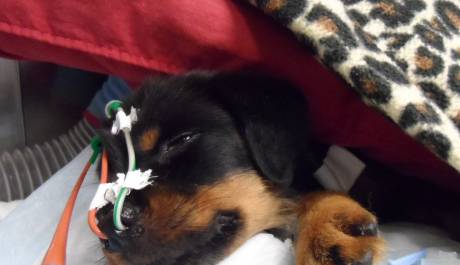 It is with great sadness that we have to let everyone know that sweet BINDI just crossed over the Rainbow Bridge. We have had this sweet girl for five days doing everything in our power to save her. This is a devastating loss of a tiny little girl that never got her chance to be a normal little puppy and live a long Life. We greatly appreciate those of you that chose to donate toward saving her Life. Her little body was just too starved by the time we rescued her. All donations will go toward paying off her extensive bills. Thanks for caring and giving our Little Angel the best possible chance. She now has her Golden Angel Wings and can run and play to her heart's content. Thanks for being there for her.
GREENVILLE, SC......We were contacted about a tiny little four pound Rotti puppy that was left with them that has severe Mega Esophagus. They think Bindi is eight weeks old, but she is so tiny and emaciated that the age is hard to determine right now. We immediately said we would take her since was needed critical care at a hospital. We contacted all of our Specialists to let them know she was coming in and for them to go over all of her paperwork and x-rays. She had to be transferred to the Critical Care facility in Charleston where she immediately went into ICU. Bindi has Mega-E because of a PRAA (Persistent Right Aortic Arch). PRAA is a congenital anomaly of the blood vessels of the heart that results in constriction of the esophagus.
Bloodwork was immediately done for our little girl, and it was discovered that since she could not get food down, she had been drinking water at a rate that diluted her sodium to a critical point. All of her values were all over the place. A feeding tube and an oxygen tube had to be inserted to get food in her and to give her more oxygen since she was so depleted. I cannot emphasize enough how critical she is right now. She has 24-hour care and the best Specialists around doing everything possible to pull her through this. She is so weak that she cannot even stand up. We have to get her better before the surgery can be done. We feel completely helpless with such a tiny little Angel. It is hard not to get emotional when you hold her in your arms. She is all skin, bones and lots of fur. We can't hold her too long because her body temperature drops so quickly. Her condition is up and down. Bindi need all our prayers to pull through this.
Please, DONATE toward her medical bills. Round the clock care in ICU is the most expensive care there is. Without the care she is getting, she will not survive. I have to believe this is not all the Life this little puppy is ever going to know. The only think keeping me from totally falling to pieces is that we have the best Specialists in charge of her care. We are doing all we can to help her Survive and THRIVE so she can have her PRAA surgery and live a long Life filled with unconditional LOVE.
Learn about our other amazing animals