BOSCO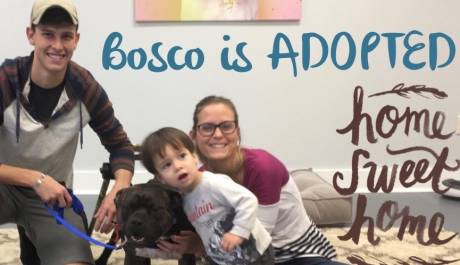 We have waited a long time to say, "Bosco is ADOPTED." The perfect Family came along that wanted to Adopt and help an animal that had disabilities. They fell in love with Bosco long before they met him. Once they met him and saw how determined he was to walk in his cart, they were hooked on this big Love-Bug. I cried like a baby when he left. I am happy he has a great home but sad I will not be seeing him every day.

Saving these wonderful pups and watching them Heal and find Love with their very own Family is what we want for each dog. We have nurtured them through their most difficult time and now it is time to not say Good-Bye but Hello is a new Family that becomes part of our NAR Family when they adopt from us. We are always here to take them back and help the new Family adjust. We know them better than anyone at the moment they are adopted. Most adoptions work but when they don't, we welcome the animal back with open arms. Once you are rescued by us, we are always your Family and will never turn our backs on you.
Bosco has a wonderful new Family that is willing to do whatever it takes to give him the best Life ever. Thanks for making his Journey to Heal and find Love, possible. BOSCO has his very own HOME because of YOU. Thanks for caring.
Learn about our other amazing animals