Caroline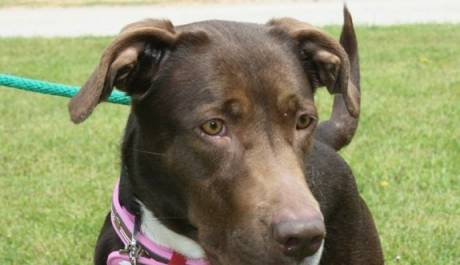 ATLANTA, GA....Sweet CAROLINE was abandoned at an apartment in Atlanta, GA. The Landlord called Dekalb County Animal Control to come and check out an abuse case in his complex. What they found was sweet Caroline barely able to move with her companion that had starved to death with his head laying in an empty food bowl. As you can see from her nails she has not been outside or able to get around in some time. The authorities have found the person that had once rented the apartment and filed criminal charges against the person for Animal Abuse. These innocent dogs have been without food or water for God knows how long. Long enough for one of them to starve to death and die. Can you imagine to fear and sadness they felt being able to hear people around them but not having anyone come to care for them. I do not know if they barked and no one heard them or if they just got too weak to bark. How Caroline is still alive is a testament to her will to live. She is sweet and so loving. She is a little bit timid but time will change all of that when she realizes we are here to help her get well. She is at our vet being treated for starvation, dehydration, parasites and slight anemia from lack of food. Her blood and kidney panels are not terrible but indicate what we expect to see when an animal has gone so long without food or water. She will be at the vet slowly gaining her weight back while we are monitoring all of her organs to make sure they can handle food and water since she has gone for so long without it. Caroline will be a beautiful dog once we get her built back up again and a wonderful dog for a young family. She has no aggression at all and is sweet and loving to everyone. We think she is approx. 2-3 years old.
Sweet CAROLINE is hanging in there. She has only gained four pounds but considering how sick she was, we are happy to have that much on her. Her body is beginning to stabilize and her blood and kidney panels are staying closer to the normal range than they have been. She is able to keep her food down but is not able to eat as much as we would like. She is getting lots of small meals. Whatever she wants, she gets as long as it is of the highest quality food for her. We have gotten rid of most of her parasites and that should help us put more weight on her. Sweet, sweet, sweet is the best way to describe Carolyn. She is definitely feeling 1000% better. She was very subdued and more lethargic when we got her but now she is a happy girl that just bounces around. She is definitely loving life and everyone adores her. She did not deserve what happened to her or her companion and we are going to make sure the rest of her life is going to be filled with lots of love, compassion and care which is what all of these wonderful animals deserve.
Caroline is still at the vet. Her bloodwork has finally stabilized and we are hopeful she will start gaining more weight. She is still underweight and if she does not gain more than she has been, we will start doing more test to make sure she does not have any underlying issues. She is a happy, playful girl that just loves people.
Sweet CAROLINE is ready to be adopted. She still has more weight to put on but is doing great. Her bloodwork is normal and her stools are finally solid.
OUR WONDERFUL GIRL IS ADOPTED.
Learn about our other amazing animals