Casanova / Willard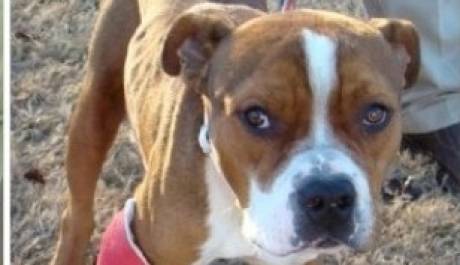 SOUTH CAROLINA.......CASANOVA is a three year old Beautiful Pit Bull / Boxer Mix that was shot by police the first of December. We are not putting the location down because of the circumstances surrounding sweet Casanova. We were contacted by a vet stating someone had called them crying about a dog that had been shot in their neighborhood. They stated the dog had been seen in the neighborhood a couple of times and her neighbor had several intact females around that were in heat. Casanova never showed any signs of aggression at all during any of these times.
The neighbor called the police when he showed up in her yard again and was hysterical saying he was growling and charging toward her and they were all in danger. When the police arrived, the neighbor was so out of control yelling and screaming that when Casanova started walking toward her front door with his tail wagging, the police shot him.
Luckily, he ran off into the woods to get away. They looked for him but could not find him. The next couple of days he showed up near the persons home that wanted to help him. He could not have been any sweeter. He was scared, bleeding and wanted help. Casanova loves people. He was very thin and even though he had lots of parasites and a gunshot, it appeared he had been someone's family pet. He had no tag or microchip on him. The neighbor that called the police was demanding the dog be euthanized.
We DO NOT take in dogs to then turn them over to be Put to Sleep. Casanova was not a danger to any human. We tested him with everyone and even with his injuries, he was as sweet as can be and still is. He has a little bit of an attitude with some Alpha Male dogs but that is normal behavior for a dog that has been on his own for a while. I spoke to the Police that were involved in this and explained what our findings were along with the vets evaluation. I let them know I was not going to turn him over to them based on our evaluations. They decided to not pursue it any further.
The original neighbor was demanding us KILL him and we refused and moved our sweet boy out of the area for his own safety and our sanity. We needed for things to settle down before we felt comfortable posting for him. Casanova was very lucky. The bullet went all the way through the leg. It nicked the bone and damaged a ligament. We have done surgery on him and he is recovering and doing great. He has gained some weight and is over all of his intestinal parasites. He is now working with a trainer to re-socialize him with other dogs. We have also taken away his Dating Card and is no longer in possession of his Crown Jewels. In other words, he is a happy neutered male dog.
Words cannot describe how beautiful Casanova is. He has the best of the Pit and the Boxer in him. He will be ready for adoption when he is done with his training. Casanova has recovered from his gunshot wound and is now with a trainer learning manners and how to socialize with other dogs. He is an incredibly sweet dog that adores people. Look how beautiful he looks here.
Learn about our other amazing animals