CLOVER (Pittie)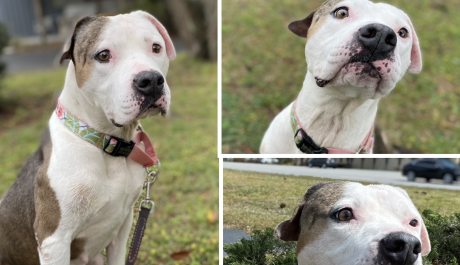 We fall in love with every dog we rescue. No matter how broken they are when they arrive. We love them that much more because of the hardship they have endured. Beautiful Clover has stolen all of our hearts and has shown us that you don't need hearing to have a wonderful Life.
Clover has endured unimaginable pain and suffering because of her ear tumors. Imagine an earache that never goes away but gets worse each day untreated. That was the Life Clover lived until she finally got help. The unfortunate part is Clover would have her hearing today if her Family had gotten her medical care. It would have taken a cleaning solution and time to stay on top of her ears.
I look back at all the dogs we have under our care and ponder how different life would have been for them if they had been treated when they got hurt or loved and cared for when they were left tied to a tree. Most of the animals we care for are scheduled to be put to sleep because the Family thinks they are property that can be discarded.
The dogs in our care are Family. It is hard to let them go when they have healed and are ready to be adopted. We check out each person and only choose those families that we feel can give them the best possible home, given their abuse and injuries.
I am happy to report that Clover's ear flaps have finally healed, and she no longer has to wear her cone. She has had her first round of immiticide injections for heartworm treatment and will have her second and third injections beginning on the 16th of April. The only thing left to do is get her spayed several months after her heartworm treatment. Spaying can be done with her Adopter, which we will pay for.
Life is Good for this precious pup. All you have to do is look in the face of this Angel to see what pure Love looks like. Her eyes are magical and so full of love and hope. We are working to pay off her final bills and have funds for her spay and heartworm treatment. Any amount donated is greatly appreciated. Thanks for giving Clover the Gift of Life. Your support is greatly appreciated.
Learn about our other amazing animals