COLETTE (Staffy)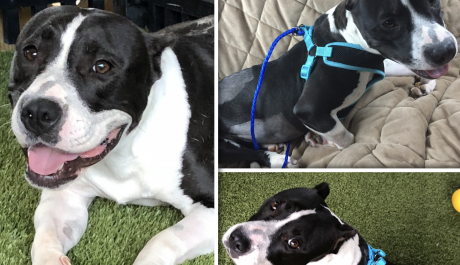 Our sweet Colette has had more than her share of hardships over the last couple of weeks. She started having trouble with her rear legs during the hurricane and was taken to see her Surgeon in Charlotte, NC and stayed there so they could determine exactly what was going on. They found she had an infection that had gotten into one of her joints and that was causing her more discomfort. The hospital was finally able to get her comfortable along with starting her on antibiotics.
Once the Hurricane had passed, we were able to go up and get her and bring her back to our Rehab Facility. We gave her several days to see if she improved, but she did not. We had to take her back to the hospital where she remained. We have now determined she must have injured her neck during the car accident. She cannot have anything around her neck, and we now have her in a harness to assist her when she gets up.
This morning she is starting to cup her front foot under which tells us she has a nerve problem. We spoke to Dr. Jason King, our wonderful Neurologist in Savannah, GA and he is making plans to do an MRI on adorable Colette. This sweet girl cannot seem to get on the other side of her injury even after her pelvic surgery. She still has a break in her pelvis that could not be fixed but has shown improvement and is starting to mend and heal.
Adorable does not even begin to describe how cute Colette is. All we want to do is lift her up in our arms and cuddle but we can't because of her injuries. She seems to hurt just about everywhere which is why we are so careful with her. The pain meds she is taking are helping some but not enough. In my gut, I know something has been missed for her to feel this bad. We feel confident Dr. King can figure it out.
Colette has been in and out of the hospital since we last posted. The Hurrican messed everyone up, and we are trying to get our feet back on the ground with moving animals around because of the storm. Please, Donate whatever you can so we can get to the bottom of her Medical issues. There is nothing we hate more than to have one of our pups not feeling the best they can feel especially after they have spent over a week in the hospital.
Thanks for helping us with dear Colette and all our other pups. Over the next two weeks, we will be posting a lot of animals that are officially ready to be adopted. We need to find them great homes so we can take in more animals that need us now to Live. Thanks for Caring for them and us.
Learn about our other amazing animals