CRUSH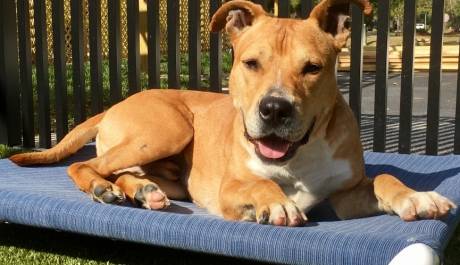 I decided it was best to wait until we had good news on this sweet boy or I would be doing non-stop posts of his recovery. I am happy to report that Crush is finally on the mend from his multiple surgeries. For the past two weeks, I was prepared each day to take him to the ER in Charlotte so they could do more surgery on his bowels. We have had to adjust his food daily because of the straining he was having when he went to the bathroom and the amount of blood he was losing. It did not matter if he had diarrhea or formed stools, he was still having major issues.
This past week, we came up with a formula for soaking his Orijen or Acana food in either water or bone broth until it was very soft. This combination enabled his body to heal and to bulk up his stools so he could go to the bathroom without any further difficulty. He has not had blood in his stools for the past three days and seems to be a lot more comfortable. It seems like he would have difficulty right about the time we would be rejoicing. We feel very good about how he has been doing and are hopeful; his progress will continue.
Crush does not think he has any problems. As far as he is concerned, every day is a reason to get up and play. We have finally allowed him to get out and play with the other dogs which he loves doing. We don't allow him to get rough but just some fun times rolling around. He is going to make an amazing dog for any Family. He loves everyone and is a delight to be around. If you want a Family dog that loves children and everyone he meets, look no further. Crush will be your next best Friend. He will still have to be closely monitored over the next four weeks, but we feel like the worst is over for this wonderful young pup.
Crush's multiple surgeries have put a big strain on us. What we thought was going to be a simple prolapsed rectum surgery, turned into three major procedures along with hernia surgery. Please, Donate whatever you can so we can help more dogs like Crush. Thanks for caring and making his Journey to Heal and find Love, possible.
Learn about our other amazing animals