DAPHNE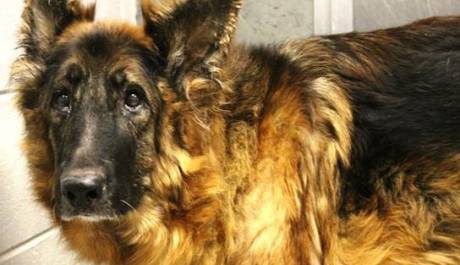 It is with a heavy Heart; I have to let everyone know that sweet Daphne lost her battle yesterday and has crossed over the Rainbow Bridge. Daphne had been in Hospice Care with a wonderful Family when she suddenly became lethargic and would not eat. The Family was unable to get her to a Critical Care Specialists because of the floods in Columbia which is where she was. They were able to get her to a Vet that was close by to get her stable. Yesterday was the first day the roads were open for her to be taken to the Critical Care Specialists in Charleston. Daphne was stable when she left the Columbia Vet but was in Respiratory Distress when she arrived at the ER. She was immediately taken in, and they began to work on her but she was too far gone, and we had to say good-bye.
Daphne had been feeling wonderful prior to this and was loving Life. She was getting to go outside and play with other dogs and be with a Family that adored her. The Vets believe she developed Aspiration Pneumonia and then went into Respiratory Distress because of her age. We wish we had more time with this amazingly sweet dog. The time we did have with her was spent showing her unconditional LOVE and allowing her to be a DOG that was Adored.
Tonight when you look up into the sky, look for the biggest, brightest Star that appears to be looking at you instead of the other way around. That will be dear Daphne assuring all of us that she is now free, whole and happy with her original Guardian that had already passed before her. Thanks for caring and making her Journey possible. Daphne will forever be a part of our Noah's Arks Rescue Family that will be our personal Guardian Angel watching over all of us.
Any Donation would be greatly appreciated to cover her final medical bills and to Honor her Life with a Gift Donation. Thanks for caring and making her Journey possible.
Learn about our other amazing animals