DEMI (Maltese)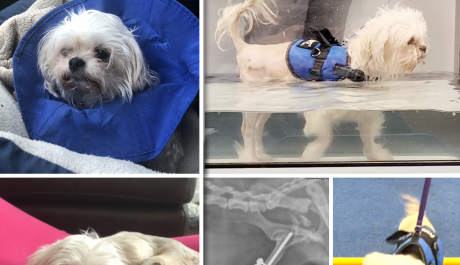 Demi did well with her surgeries without any complications. She was stable during her anesthesia and came out of it quickly. I feel so bad for this precious little Angel. No dog should have to endure this kind of hardship. Demi is so used to being in pain that she never whimpers or complains. She takes it all in stride, which makes everyone sad. This precious girl has not complained once since we have had her.
For the first four days, Demi remained in ICU to control her pain. Once they reduced her pain meds, she could walk outside and use the bathroom, which is a Miracle. This week they began extensive rehab. She uses the underwater treadmill, laser and walks over poles several times a week. The difference between when she arrived and how she is now is remarkable.
In addition to Demi's breaks, she has terrible skin issues. Her skin is inflamed and itching, and her feet have awful fungus. Her diet has been changed to grain-free, which is helping with her itching. Her feet are being treated for fungus, and to our delight, they are improving.
Demi's bills keep increasing since her Surgical Team and Internists are adding new treatments to her protocol. We are also still raising funds for her surgeries. Please, Donate whatever you can for this precious pup.
Learn about our other amazing animals