Docker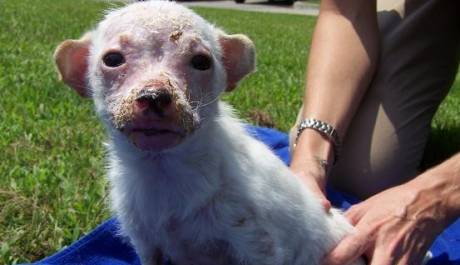 GREENVILLE, SC........DOCKER is an 8 week old puppy that was picked up as a stray and brought to Greenville County Animal Control. We were contacted and immediately took him so he was not put down because of his injuries. At first we thought he had terrible demodex but after doing a skin scape that came back negative we now believe someone has poured either acid or something hot on him. His skin has infected blisters and scabs all over. We also believe it was a liquid because of the way his skin is the worst where a liquid would have pooled up under her body and down his legs. Docker has a terrible Upper Respiratory Infection he is also being treated for. His system has definitely been stressed out to the max with all of the inflammation he has. He was very uncomfortable and in a lot of pain when we first got him. He is now beginning to feel better but will be with us for several months healing. Right now, he is one big infection all through his body. We do not have a clue what kind of pup this little guy is. We think he is a small terrier mix. Only time will tell what he grows into. Right now, he is sweet and loving and so glad he has people that love him. He was very scared when he first came to us. He now knows we are not going to hurt him. He will make a wonderful member of the family once his injuries have healed.
Adorable DOCKER is still very sick. Because his immune system was so compromised, he was prone to get everything imaginable. We are finally getting his upper respiratory infection under control. His skin has revealed he has a MRSA staph infection all over his skin which means it is in his bloodstream. He is on a lot of specific antibiotics for the issues we are dealing with. We finally have his fever under control. If we hadn't gotten him when we did, he would not be here today. He is the sweetest little pup that has really been through it. He will be in the hospital for several more weeks while he is healing. He is getting lots of love and affection while he is healing.
Docker has been moved to another clinic where he is getting round the clock care. He was diagnosed with a rare genetic disease called Dermatomyositis. We have put a link below so you can read about it. There is no cure for this and his condition is compounded by the MRSA staph infection he has. We are working with several specialist to get him through this.
He was doing so much better and we were making great progress with the new antibiotics but over the week-end, he let us know he didn't want to do it anymore. In the arms of someone that adored him, Dr. Bink helped him cross over the Rainbow Bridge where he could finally be free and not be sick any longer. He will be terribly missed and we will be forever grateful for the unbelievable love and compassion Dr. Bink brought to this little boys life. You can see from the picture below how much love they had for each other.
Fly high little one. You will forever be a part of us.
Learn about our other amazing animals