DOLLY PARTON (White Husky Puppy)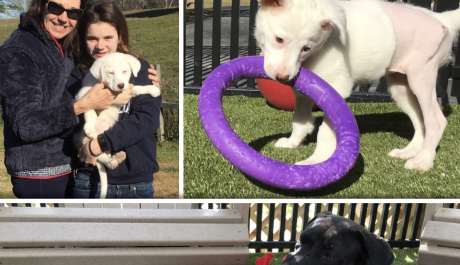 I am happy to report that little Dolly Parton is doing fabulous. She is by far one of the happiest puppies we have had in a long time. The hip surgery she had has not slowed her down one bit. Prior to having the surgery she had a hard time walking because the pain was so bad. She now has to be held back because all she wants to do is run and play.
I wish all of our pups were this easy to take care of, but it is just not the case given what we do. I am just glad we were able to help this sweet girl get better so she would have the rest of her Life to be a normal dog that loves to run, play and chew on everything in sight.
The other great news is that she was adopted by the same Family that adopted our other puppy, Oreo. Oreo's name was changed to Snickers, and Dolly Parton's name has been changed to Rascal which seems to suit her just fine. She will have all of her follow-up appointments in her new home outside Atlanta, GA. along with her spay surgery once she gets much older.
Thanks for all the help with this little Angel. We are still not sure what she is going to be when she gets bigger. It will be wonderful following her Journey as she grows up. Her Journey to Heal and find Love was possible because you cared.
Learn about our other amazing animals