Duchess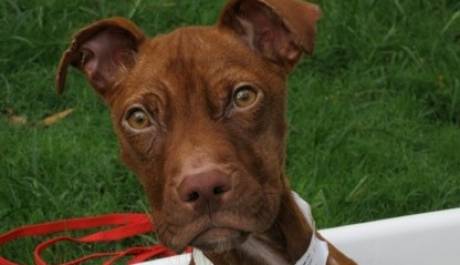 This sweet adorable 8 month old red pit desperately needs our help. She was stepped on as a pup and has since been unable to keep food down. We have her at our vet in Greenville, SC undergoing evaluation and testing to see exactly what the problem is. On top of that she has demodex and is anemic. If we can't resolve the problem she will die. We believe the problem is neurological and not esophagus related as the original foster thought.
Duchess has had every test imaginable to treat her diarrhea and throwing up. We have ruled out a lot of things but have not found out what exactly is causing her problem. Something happened when she was stepped on as a baby we believe that is preventing her from keeping her food in. Her x-rays have a few slightly abnormal areas. She undergo exploratory surgery on Wednesday at Upstate Veterinary Specialist to see if they can determine and fix what they find when she is in surgery. She is a very strong willed little lady that is healthy enough to do the surgery or we wouldn't do it. If we don't find out the problem she will die, so we are doing everything possible to find out is wrong and either fix it as best we can. This is a young pup that has had this since she was little baby. We are not going to give up on her.
We still need lots of donations for her since her surgery is going to cost a lot more than we originally thought her medical was going to be.
August 19, 2009
This sweet pup had exploratory surgery today. She got through her surgery just fine. They did not find anything dramatic. They took samples from two lymph nodes that were enlarged and took a sample from her intestines for biopsies. We are still not any closer to finding out what is causing the problems she is having. We do know a lot of things she doesn't have. It is becoming clearer that she has some neurological problems from being stepped on as a baby. Do we know if that is causing all this....no, but it appears to be a factor. This is so frustrating. We have done every test known to man on this sweet pup and have now opened her up and still nothing. The other possibility is that her intestines and digestive system are compromised from having parvo as a puppy and this is the residual effect from that. We will know more when the biopsies come back in about 3 days. The good news is that she has gained 3 pounds. We are making progress.
August 28, 2009
We have finally got a confirmed diagnosis of IBD which is Inflammatory Bowel Disease. This is something that she got from being so sick as a pup with Parvo and H-Pylori. Now that she has it, it will be a lifelong condition that will need to be monitored and treated for the rest of her life. We are now trying to figure out the exact protocol and medicines that will work for her. It is going to take a very special person to adopt her and monitor her for the rest of her life. We have spent almost $6000. to finally get to this point, but we are certain after all the tests and biopsies that this is what she has. She is still at UVS and will go to North Greenville Hospital on Friday if she continues to improve. She is a sweetheart and will be available for adoption once we have her on the mend. I have enclosed another chip-in below for Duchess with new pictures to see if we can raise more money for her care. She is a wonderful dog that we are not giving up on. Once we take a dog into our care we do whatever is necessary to get them better. It usually costs us a lot more that we originally anticipate but we do not stop or give up.
October 5, 2009
It is with incredible sadness, I have to let you know that our Sweet Duchess crossed over the Rainbow Bridge today. Her body just couldn't function anymore and she went into liver failure. We did everything humanly possible for this wonderful sweet girl and when the time came as much as I hated to see her go, I knew it was time. I did not want her to suffer and when it became apparent that she was, I knew it was the right thing to do. She had her ups and she had her downs and we still kept thinking we could turn her around but it just wasn't meant to be. I had just scheduled her to go to another specialist when this happened. She died in the arms of people that loved and adored her. She will be terribly missed. She can now run with all the dogs that she so wanted to play with.
Learn about our other amazing animals