DUCHESS (Rottie Mix)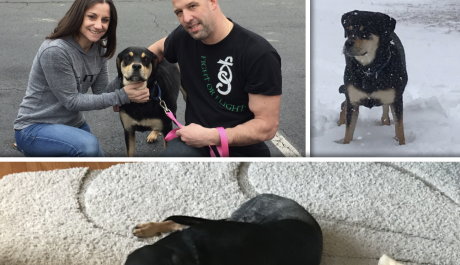 I decided we all needed some good news this beautiful morning. Sweet Duchess has had almost two months of Physical Therapy to get her rear legs strong enough since she had bilateral Femoral Head Ostectomy Surgery. She started out pretty shaky in the beginning but soon became confident in her ability to walk.
When we first rescued Duchess, her femoral head on both sides were out more than they were in. Our sweet girl was used to walking with lots of pain. When she came out of surgery, it was a different kind of pain that we could control but one that she identified as even more painful. Her surgical pain was short lived which took her a while to realize was going away. Dogs that have bilateral surgeries need to have a certain amount of pain, so they do not overdo it right after their procedures.
Over doing pain meds is the worst thing you can do for an animal. They need to feel a little discomfort to keep them from jumping and running around. Duchess was on controlled walks and in the Underwater Treadmill to build up her strength and muscle mass. I am happy to report this wonderful dog was doing so well; she was finally able to go to her new Family in Connecticut without any reservation.
Duchess is living the Good Life wondering if this snow is ever going to go away. She went from sunny and cold weather to someone has spilled something all over the yard that I hope I don't get blamed for. We miss this sweet pup but know she is being cherished and loved by her new Family.
Thanks for caring and making her Journey to Heal and find Love, possible. We greatly appreciate your love and support for each animal we take under our Wings at Noah's Arks Rescue.
Learn about our other amazing animals