ETTA JAMES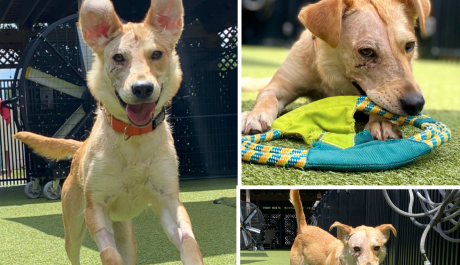 I am happy to report that Etta James has fully recovered from her surgery, and her stitches have been removed below her eye. She is now free to run around to her heart's content and be placed in a loving home.
When people read cancer or tumor in a plea for help, that vision is hard to change. I can assure everyone that sweet Etta James does not have a tumor or a growth anywhere on her body. The original diagnosis was not correct from the other hospital. The best we could determine is they mistook a blood clot for a growth that has since dissolved. Sweet Etta has had x-rays and a Cat Scan to make sure nothing is lurking we could have missed.
Etta is healthy as an ox and is all puppy that loves to play catch from sun-up to sun-down. She loves other dogs and is everyone's best friend. Etta would make the perfect family pet that would adapt well to young children or the elderly. What she needs most is for someone to throw her a ball or frisbee and play catch. Once she is done with that, she will take you on a short or long walk. All she cares about is being your best buddy.
Etta James is a delightful dog that has stolen the hearts of everyone at Noah's Arks Rescue. If you think she would be right for your Family, fill out our Adoption Application. Etta will not be with us long with her winning personality.
Thanks for helping us with Etta James' medical and diagnostic bills. It took everything we did to rule out cancer. The good news is we did not find any disease, and she has the rest of her life ahead to be loved unconditionally. Life is Good in Etta James World. Your support is greatly appreciated.
Learn about our other amazing animals