Foxy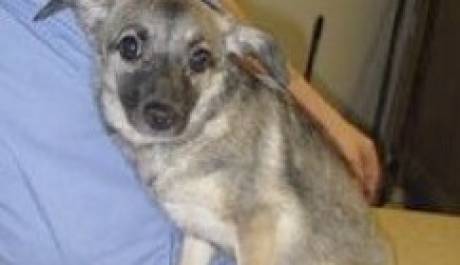 This sweet adorable 5 month old pup was dropped or thrown from a balcony, the best we can determine. She was picked up by a good samaritan that found her on the ground unable to move. She has a partially broken back. She has a T6 fracture that needs to be repaired if there is ever any hope of her being able to walk again. She can stand up a little and then she can't and over time she will be totally paralyzed. She has had a cat scan and is scheduled for surgery. The vet thinks she is a dwarf German Shepherd. Her back problem is not genetic but was caused from trauma from a fall. She is so sweet. We are very hopeful of the outcome but there is no guarantee that she will ever be able to walk again. The procedure she is having is a Dorsal Laminectomy. Her spine is compressed because of the fracture and they are freeing it and repairing the disc. She may require more surgery but we have to do this procedure first.
November 3, 2009
Foxy survived the surgery and is slowly beginning to get a little movement in her back and front legs. Today she seems to be more comfortable than she has been, which we are very grateful for. Through it all she has been nothing but a little Angel. Her spirit is amazing for one that has been through so much. We have started her rehab and she is doing well with it. The surgeons gave us a break so she could stay there while she is doing it. We are still very hopeful this little girl will be able to walk again. Now is always a good time for some prayers for this little one.
November 10, 2009
Foxy is doing great with her rehab. She is the sweetest dog and everyone just loves her. She is able to stand on all four legs and is able to move her back and her front legs. She isn't able to walk on all four yet but it is just a matter of time. When she lays down she can eventually get herself up with lots of rocking and rolling. She has rehab three times a day to keep her muscles from atrophying and to build up strength in them so she will eventually be able to walk. She is a trooper and is hanging in there.
November 30, 2009
Foxy has been adopted by the wonderful person that has been doing her rehab. She is still not walking but is showing wonderful progress.
December 13, 2009
This incredible pup was doing wonderful and had started to walk briefly on her own for a few steps. Unfortunately, one of her disc shifted and she had to go back into surgery. We just adore this wonderful dog and are hopeful this will be the end to all the surgery for her.
December 14, 2009
It is with incredible sadness, I need to let you know that FOXY passed away in the early morning hours. The best we can determine is that she threw a clot after the surgical procedure. She was not in any pain and peacefully passed away. She will be terribly missed and will always hold a very special place in our hearts.
Learn about our other amazing animals