Gandolf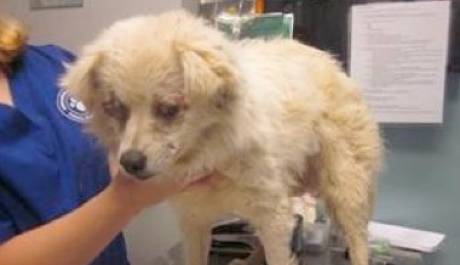 GREENVILLE, SC....If you can imagine being injured, scared, all alone and not having the ability to see where you are or how to stay out of danger, well, that is what GANDOLF has been dealing with. This incredible little 9 month old Spitz Mix pup that weighs only 16 lbs. had something terrible and unthinkable happen to him. Someone destroyed his EYES. We have found no other injuries on this wonderful little dog that indicates anything other than that. He was picked up as a stray in Greenville, SC and taken to the Shelter there. His eyes have literally been destroyed. It looks like someone poked them with an object that has totally ruptured one eye and partially ruptured the other. The pictures are very GRAPHIC which is why I have chosen to blur the one at the top. The untouched ones are below. Please DO NOT send around to anyone that is not prepared for what they are going to see. The abuse this sweet boy has endured is unimaginable. He has been on his own for what we think is about two weeks like this. He is thin, scared and feels totally alone in his new world. Both eyes are going to be removed and sewn shut. As everyone knows, blind dogs live incredible lives. Just look at Sammy. He endured the same type of trauma and has gone on to live the best life. He misses out on nothing. I should know because I adopted Sammy. Gandolf will have the opportunity to learn to live in a world where you totally depend on someone else for your safety. The difference is that this time he will be surrounded by unconditional love and understanding for his new disability. He is a special needs dog that will have to be placed with a very special family that can guarantee his safety at all times. He is the sweetest, most loving little dog you will ever get to love on. He just melts into your body when you hold him. He is going to need a lot of special care and therapy to adjust to walking without sight. We will do everything we can to make sure this adorable little pup will heal from this physically and mentally.
Our sweet boy has had his eyes removed and is recovering.
Gandolf's stitches have been removed and he is doing great.
He loves being in your arms or your lap.
Gandolf has been adopted by his wonderful Foster family. They are all doing great and love having this sweet boy in their life. Their other dogs have been looking after Gandolf and making sure he is safe.
Learn about our other amazing animals