Guinevere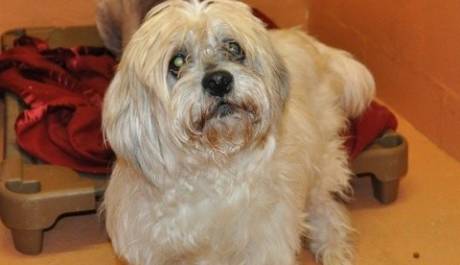 GUINEVERE is a sweet approx. 7 year old Maltese Mix that was picked up as a stray in Decatur, Georgia. She was microchipped and the owners were contacted but they never came to get her. She was no longer wanted. In the process of her waiting to be picked up, she was severely attacked by another dog. Her throat was completely torn open and her ear was almost destroyed. She has a baseball size opening on her throat. The shelter put drains in but that is all they could do. She was one big infection when we were contacted to see if we could help her. I don't think I have ever seen an animal in such horrible shape in a long long time. That this happened in a shelter is bad enough but to not get her better is even worse. We picked her up on Friday and had her taken to the vet where they were as horrified as we were when we say her. They immediately got her stable and started to clean up her wounds and put new drains in. She is scheduled for surgery to try and repair her neck and ear. This traumatized little girl is loving and sweet through all of this. She is so glad to finally have someone look after her and is so grateful to finally be out of pain. The pictures are very graphic below. The least graphic one is the one on top.
Guinevere has had her surgery and is doing well. Her lab work has still not gotten in the normal range but we are hopeful it is because of the trauma and loss of blood. She is being tested every day. She has been the sweetest girl through all of this.
Guinevere has finally turned the corner. Her bloodwork and kidney panel are finally beginning to come up and get close to a normal range. She will have her stitches removed tomorrow.
This sweet girl is doing wonderful. Here is a recent picture of her neck several weeks after her surgery.
Guinevere is doing wonderful. Her neck is finally beginning to get some good hair on it. She is a shy sweet girl that loves everybody.
Guinny and Abel have become good friends. She loves Abel and wants to look after him. He loves Guinevere (aka Guinny) but will not share his bed or his food with her. We love seeing her so happy.
Guinny is doing wonderful. We are treating her for a thyroid problem
and her fur seems to be getting much better.
Learn about our other amazing animals