GYPSY (Beagle)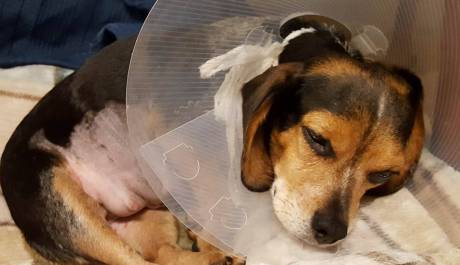 This amazing little Beagle has surprised us all and is walking on her own since her hemilaminectomy done by Dr. Bergman. It has been a slow but steady process. Gypsy was in terrible pain when she first arrived, could not stand up and was incontinent. There was no way of knowing if we would be successful once the surgery was done. We have so many of these cases that we are not sure of the issues of incontinence or if they will ever walk again. What we do know is that without surgery, they will have to be put down because the pain associated with disk issues is too debilitating and they progressively get worse. No one wanted to take the chance of paying for expensive surgery and not have it work out. We had a fellow Rescuer that wanted desperately to save this little girl but did not have the means to do so. I am so glad we stepped up for her because she is a delightful little Angel that has proven everyone wrong that thought she should be put to sleep.
Gypsy is strong-willed and is a fighter. She is not running but is walking all over the place. She can use the bathroom on her own without having her bladder or bowels expressed. Our little bundle of joy is living up to her name and is a typical slow-moving, sniffing, wandering Gypsy. She is a tiny Beagle that wobbles a little bit but is always moving forward.
Dr. Bergman did her re-check exam this week and was shocked at her amazing progress. When she first arrived, she was in terrible pain, non-ambulatory and was deep-pain negative. The chances of her walking again were very slim. To say he was delighted to see her walk in the exam room is an understatement. He was over-joyed.
Gypsy has two large inguinal defects with herniated fat and connective tissue that needed to be removed and repaired. If she was not able to function normally, there was no reason to put her through more surgery. Dr. Bergman cleared her for surgery, and she went in and had the hernias repaired and the excess tissue removed. She has three more weeks of recovery from the surgery and then will be cleared to be placed in a wonderful, loving home.
We love a great outcome, but now we have to pay for her last surgery. Please, Donate whatever you can so we can help more pups like Gypsy get the Life they always dreamed of. Thanks for caring and making her Journey to walk again, possible.
Learn about our other amazing animals