HANK (Redbone)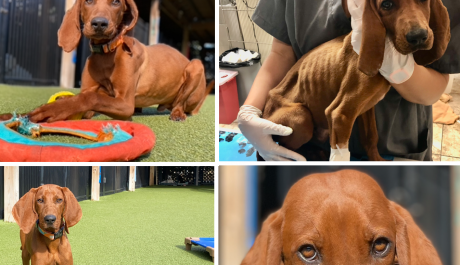 I am so happy to report that precious Hank has finally had his PRAA (Persistent Right Aortic Arch). It has been six months since we initially rescued him—many visits to the ER due to his inability to swallow and hold his food down. Once we got the final diagnosis, we had to get him healthy and gain weight.
The first month was the worst since we had to develop a slurry formula he could keep down. The next issue was getting him calmed down to adapt to eating in his Bailey Chair, a chair designed for the dog to eat in an upright position. This position allowed his food to have an easier transition into his stomach. He would then have to remain in the chair for 20-30 minutes. We had to determine when he would not aspirate his food into his lungs.
At first, it seemed like we would never get enough food down him. We had to formulate how many calories he would need to gain weight. We then had to get the most calories in the smallest quantity. If the amount were too large, he would throw it up. We finally came up with a formula that gave him the most nutrition in the smallest amount. It was slow progress, but we were determined to get him healthy to have the Life-Saving surgery he needed to survive.
Dr. Patti Sura at CVRC had been on top of his progress all along and was the one that finally told us he was well enough to proceed with surgery. Dr. Sura did his procedure which went well without any complications. He had to remain at the hospital until they were sure he could eat. We brought Hank back to the Rehab Facility, where he had to stay on the food slurry we made. The difference is he no longer had to be fed in the Bailey Chair.
After two weeks, we were allowed to give him kibble to see how well he tolerated it. His esophagus had not healed enough for him to tolerate the kibble. We put him back on his slurry, and he was allowed to drink water from a bowl without any issues. Certain PRAA dogs never get off the food slurry even after surgery. That has never been a problem since a slurry can be made out of any nutritious food. We are attempting to use a smaller kibble this week to see if he can keep that down.
Hank is now nine months old and has gained 18 pounds. We increase his food based on how much he is growing. He is still thin but not underweight, given what he has been through. Taking care of Hank over the last six months has been very challenging. He has been in and out of the hospital and finally got to have his surgery. His bills are through the roof, and we now have to pay all of them. Please, Donate whatever you can for this adorable pup. Your support is greatly appreciated.
Learn about our other amazing animals