HAZEL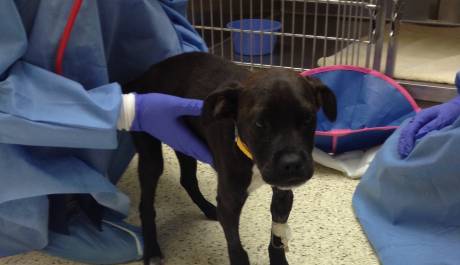 Sweet Hazel is finally improving and eating a little bit. She was not nearly as sick as our little Snickers was. We think the worst is over for her but are still cautiously optimistic. She has been in ICU since she came in and will remain there for a couple more days just to make sure she does not go backwards.
We got the Distemper results back for Snickers, and it came back positive. It fits more with his seizures and how very sick he was. The problem is that he could also be testing positive because he had been vaccinated for Distemper. The Lab thinks he had distemper after reading all of his clinical signs and how deathly ill he became. We are still heartbroken after losing him and are so thankful, adorable Hazel is showing signs of improvement.
We are still taking Donation for both of these pups to pay off their final bills. The sad part of losing an animal is that you still end of with their medical bills even if they do not survive. We so appreciate Carolina Vet. Specialists in Matthews, NC for always going above and beyond for each of our pups. No stone is ever left unturned when it comes to saving the pups we bring to them. If anyone could have saved Snickers, they were the ones to do it. Thanks for caring and helping us with adorable Hazel and sweet Snickers. We greatly appreciate the support.
Learn about our other amazing animals