Hefner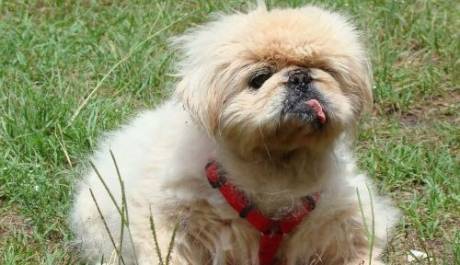 DEFUNIAK SPRINGS, FL......HEFNER is a 12 year old Pekinese that has been so totally neglected that he appears to be more like 45 than 12 years old. Life has been hard for sweet Hefner. He was abandoned and found barely walking down the middle of the road at night. He is almost totally blind and deaf. Hefner was going to be put to sleep because no one was willing to help him. The shelter dreaded putting him down but did not have any choice. The carried him around in their arms to show him some love and affection before they were forced to do what they had to do. We contacted the shelter and said we would take him. Hefner is part of our Grey Muzzle Society. When we said we would take him, we thought he was just old and neglected and needed a place to live out his life. He earned his right to do that and we were going to allow that to happen naturally. What we didn't expect was just how abused and tortured Hefner had been. Something terrible has happened to him. His front jaw is broken and split right down the middle. We don't know what kind of trauma has happened to his tongue but it stays just the way you see it all the time. His teeth were so bad that 10 of them had to be removed. The infection in his mouth was unbelievable. He is also high heartworm positive but is too old to treat. Someone intentionally abandoned him knowing he did not have the ability to survive. He could barely walk when we got him because his legs are so deformed. We don't know if this is from poor nutrition or an injury. I know most people would say the best thing for this sweet dog would be to put him down. Why? Older dogs deserve the same love, care and understanding we all deserve. HEF (as we have been calling him) has one more year and maybe two in him. Once he recovers, he needs to go to a loving, understanding family that will allow him to live out his natural years until his time comes. If that family does not come along, HEF will remain with us. When we got him, he was nippy and unhappy because his entire body ached. He is now a happy dog, that likes his naps, loves being held, loves being outside sniffing around and loves EATING. His favorite thing in the world is eating. He lives and breathes to eat. That is why we think he has several more years in him. He likes food way too much to be thinking of giving up. He also could be much younger that he appears because of all the neglect he has endured.
As you can tell from the picture, we have buff shined him and taken him to the barber shop. He is so much happier this way. He still moves around slowly but he loves getting outside, walking around and sniffing anything and everything he can get his nose into. He really is an incredibly sweet dog that did not deserve to be abandoned the way he was. We have started him on a slow-kill heartworm treatment they are using in Europe and Japan. It is with Guiness Stout Beer. He is such a high risk candidate, that is the only thing we could do that we felt would not do any damage and would do some good. You can read about it by googling it. We will keep everyone posted on the results. It is new for us, so we are being extra cautious with this boy. If we don't do something he will die from the heartworms for sure and we want him to have the best shot at living a happy life as long as we can make him comfortable. Wonderful Hef is up for adoption to the right family.
Sweet HEFNER passed away in his sleep and
crossed over the Rainbow Bridge.
Learn about our other amazing animals