Henry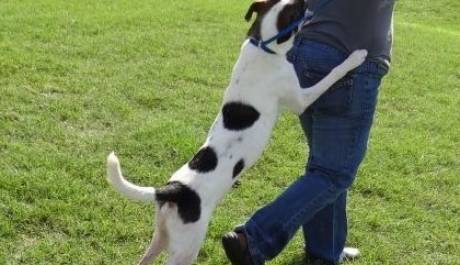 PIEDMONT, ALABAMA......Sweet Henry is a 5 year old Terrier Mix that was picked up as a stray and taken to the Etowah County Animal Shelter. Everyone was shocked when they saw him. His face was totally disfigured. They did not have a clue what had happened to this wonderful little dog. His entire upper jaw is missing and part of his nose. They never in their wildest dreams thought anyone would step up to save him given the way he looked. We decided this sweet dog had been abandoned and something terrible had happened to him. He did not deserve to be euthanized because of the way he looked. Henry is as sweet as can be and loves everyone. Right after we got him, we involved surgeons from all over the country to determine what they believe happened to him and what we could do (if anything) to repair the damage that had been done. Henry has no upper jaw...none. He has skin where there once was a jaw but it is totally gone. His nasal cavity has been severely damaged and his nose is now on one side of his face. After doing a cat scan and lots of surgical examinations, it was determined that Henry was not born this way and he was not shot. He suffered a horrible trauma to his face. They believe someone either used a bat or a metal pipe and hit him with such force that it totally broke his upper jaw. In the process of this it created a fistula between the upper back of his throat and into his sinus cavity. His jaw eventually rotted away and the bones fell out. What remained is nothing but skin hanging down that has developed into an abnormal position with his nose pushed to the side of his face. Henry sneezes a thousand times a day because of the fistula he has. Anything that goes into his mouth, ends up in his sinuses. We were hopeful we could rebuild his upper jaw. The problem is that he has nothing we could attach another jaw to. The only bones he has are vertical, not horizontal. Rebuilding was not an option. Believe me, I have thought of everything possible. The only thing we can do is rebuild his sinus area and repair the two inch fistula (hole) in the back of his upper jaw. Once the first surgery is done and healed, we will then determine if moving his nose back adds anything medically or if it is just cosmetic. If it is cosmetic only, then we will leave it where it is. This boy has already been through enough and is happy just the way he is. Henry is the most loving dog. How anyone could have done this to him is unimaginable. He loves everyone and loves to play with other dogs. He is a happy boy that could care less how he looks. Once he has healed from his surgery, we will look for that special person that will love him the same way we do........just the way he is. He is a beautiful boy inside and out.
Adorable Henry has had the surgery to repair the large fistula connecting the roof of his mouth to his sinus area. His sneezing has drastically been reduced. He still does sneeze some but not every second. Henry's breathing is now much better than it was. We have not done anything cosmetic. We are contacting the surgeons at the University of California in Davis that are doing surgery on a dog similar to Henry. They are also the team that has begun growing jawbone on dogs that have had similar trauma. I have enclosed the link below of the work that has already been done. This is going to be a long process that we will not have answers for quite a while. As soon as we hear something we will let everyone know. It is fascinating the work that is being done in the Veterinary profession to further the health an d welfare of animals. Henry is doing great since his surgery and has not had any problems. Clink on the two links below to read about another dog similar to Henry and growing bone they are doing at UCD.
We have spoken to all of the doctors in California that have worked or are going to work with the dogs on the links below. The article on Kabang, we have discovered after talking to the surgeons, is not accurate. The only surgery they are going to be able to do is repair as much of the sinus area based on what is left and do some small reconstruction. The dog where bone was re-grown can only be done on a long bone such as a mandible, radius or femur. It cannot and should not be done where the sinus cavity is involved because it would grow and close up the sinuses completely. We will be doing more reconstructive surgery on Henry in the next two weeks, once the last surgery has healed. We have now exhausted all possibilities of ever being able to replace the upper jaw that is missing or re-growing bone. We knew they were both long shots but we wanted to make sure he wasn't a candidate before we started the next phase. Henry is as happy as can be, just the way he is. The surgery we will be doing is to restore more of his sinus area.
Henry has had his final surgery to repair the fistula that came undone in the roof of his mouth and to move his nose over to the center of his face. He doesn't have any bone there so it is to help his breathing as much as possible. It will never look like a nose with bone but he is all done and ready to go to his wonderful new family. Henry is a wonderful boy that so deserves to have a family all his own.
Henry has had a feeding tube since his last surgery to prevent the fistula from opening up again. He will finally get it removed this Monday and he can then go to his new wonderful home that we have approved for our dear boy.
Learn about our other amazing animals