Hopeful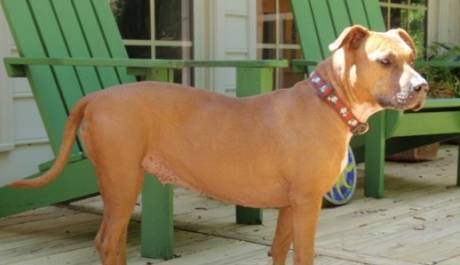 This sweet dog is the older sister of FAITH. They were both rescued from a 72 year old woman in Greenville, SC. Animal Control went out and took Hopeful away from the owner after her sister had been brought in earlier in the week. This person is under investigation for cruelty to animals.
She was originally called HOPE but since we already have three HOPES we decided it was better to call her HOPEFUL. She has scars all over her body and open sores. She appears to have been used as a bait dog. If she wasn't, then she was severely tortured by someone. The gash on her neck does not appear to be from a collar but looks more like where she was possibly whipped with a leather strap and on impact it tore her skin. Her teeth are cracked and missing and her SPIRIT is completely broken. This is one of the saddest dogs we have ever seen. Aside from all of her injuries, what someone has done to her soul is inexcusable. She is emaciated, loaded with parasites and is high heartworm positive. Someone never gave this poor dog a chance, much less love. She will be at the veterinary hospital being treated for the next two to three weeks and then will be transferred to a rehabilitation facility to help her come out of her shell. She is so scared and submissive that all she will do is crawl in a corner and look at the wall. She is petrified of people. She needs lots of medical care and even more TLC and that is exactly what she is going to get from us.
January 26, 2009
Hopeful is slowly coming around. It is just going to take lots of time and patience with her. We have found a wonderful home where she will be around balanced dogs and will get all the love and affection any dog could ever ask for. Her wounds are healing nicely but that will also take months for them to heal. She has gained some weight and it appears is feeling better.
February 7, 2010
Hopeful is wiuth her new family and they are calling her Hannah. She is doing wonderful and is slowly coming out of her shell. We are so thankful for the wonderful people that stepped up and adopted her. They are perfect for this incredible girl. As you can see from the pictures below, her bad days are over.
Hopeful is now called HANNAH and is loving her new home. She is loving, loving where she is and is coming out of her shell, eating her food, playing with other dogs.
Learn about our other amazing animals