Java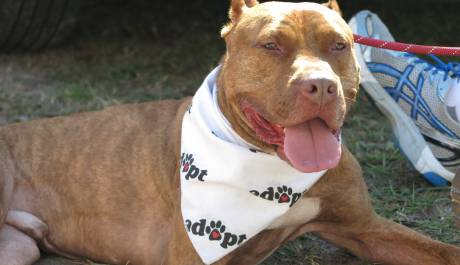 It is with incredible sadness that we have to let you know that our dear Java has crossed over the Rainbow Bridge. We got a phone call on Sunday late explaining that Java had passed, and the Family was on their way to the ER. I was shocked and asked exactly what had happened. The information we got was that earlier in the day Java was outside and got overly excited around when they were mowing the lawn. They explained to me that he had always gotten excited by a lawn mower. They put him inside where he proceeded to throw-up. They then called the Vet to see what they could do, and the vet advised them to cool him down but that he would be okay. He proceeded to go down for the next six hours. By the time, the Family had decided he was in critical condition, he had already passed. They did not call us until it was too late, and we demanded he be taken to the ER.
We are beyond distraught over losing our dear boy. The Family should have taken him to the vet immediately. They knew he got overly excited when they were mowing the lawn. He should have NEVER been outside when they were mowing based on their prior experience with him. When animals get this over-excited about something, they can over heat and die. Java died from heat exhaustion brought on by his excitement and the heat outside. We have called the Family to get more information, but they are refusing to call us back. We don't think they did this intentionally. Their lack of urgency for his welfare and by not calling us immediately so we could get him to the hospital caused him to suffer and eventually die.
We loved and looked after Java for almost four years before he was placed in this home. To have him die this way has broken all of our hearts. This should have never happened. In our Adoption Contract it clearly states, we have to be contacted immediately if the animal gets sick. We will supply medical care if you cannot or will not. We will never know if we could have saved him. All we know is that we did not get the chance to save the dog we have loved and nurtured for so long.
Learn about our other amazing animals