KOAL (Border Collie Mix)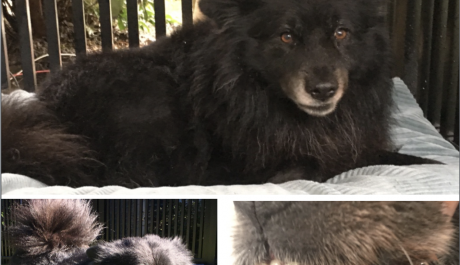 Beautiful KOAL has completely recovered from his mouth surgery. He has clean margins, and his Oncologist does not believe he needs to have any chemotherapy or radiation. We were prepared to do whatever it took for this beautiful pup, but luckily all the surgery we did has given him the best possible outcome.
Koal's Echocardiogram showed he was heartworm positive. He did have heartworms within his pulmonary artery on the ultrasound, but he is microfilaria negative. Dr. Cox, his Cardiologist, did not see any evidence of pulmonary hypertension on the ultrasound and his chest films are normal as well. Koal should do very well for his treatment of heartworm disease.
We are following his Cardiologist's Protocol which is the same as the American Heartworm Society. Koal will have his first injection on February 20th and will have two more rounds four weeks apart. Koal will be on leash walks during his treatments. That will be pretty easy for this special pup since he is very laid back most of the time.
We think Koal is one of the best dogs because he has such an easy-going personality. He loves being loved on but is not demanding. He sits back and interacts with the dogs but does not play rough. He is easy-going all the time and loves his walks. Koal would be great for any Family especially an older one that likes to go for walks and then come back and relax.
We still do not have a clue what this beautiful pup is. I just can't believe a dog this beautiful is not a specific breed. We believe he is a Chow Mix, but he does not have a black tongue. If anyone thinks they know what he is, please, let me know. Thanks for all the help with sweet Koal. He is a fabulous dog that deserves the great Life he will now have.
Learn about our other amazing animals