Lola Bean (Pittie)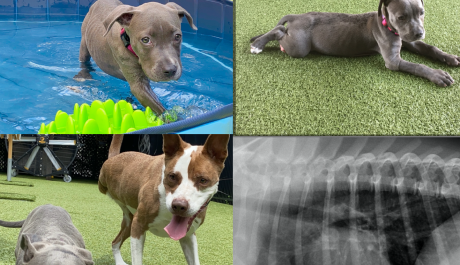 I am happy to report that our adorable Lola Bean's lung x-rays have improved dramatically since the first day we rescued her. When she first arrived, she could not breathe comfortably without being in oxygen. She started out with no possibility of surviving and is now proving everyone wrong. Her will to live was far greater than anyone thought possible.
Lola Bean's x-rays show she will always have scar tissue from her illness. The inflammation and pain from pleurisy have since resolved. She acts like a healthy puppy in every way. If you did not know what she had been through, you would never imagine how close she came to getting her Angel Wings.
Lola's lungs will probably not improve more than they have. The scar tissue we are hoping will only be a reminder of her past. Unfortunately, she will be more prone to pneumonia and upper respiratory infections than a healthy puppy or adult dog because of her history. Her recovery has given us hope that she will get to live out her natural Lifespan as a joyful, active dog.
Lola Bean loves to play with every dog she meets. She is happy and playful from sun-up to sun-down. Life is Good in Lola's World because of your generosity and Love. Thanks for caring about Lola and all the other pups at Noah's Arks Rescue. Your support is greatly appreciated.
Learn about our other amazing animals