MILTON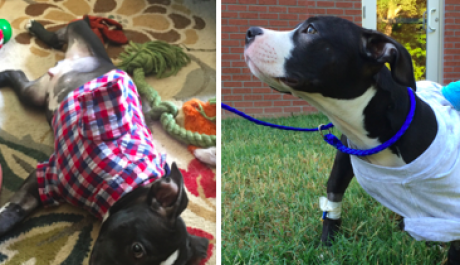 Our sweet, adorable Milton is doing fabulous as a Tripod. He was down for only half a day before he wanted to get up and run around. Since he had already been holding the deformed leg up a lot of the time, he had already compensated and took off like a bullet. He has not stopped running around and is doing amazing. How anyone could think this adorable pup was not adoptable is beyond me. He loves Life and could care less if he had a deformed leg or three legs. All he cares about being is a puppy and getting to do all the things puppies love to do which is running, jumping, chewing and giving kisses all day long.
Everyone at the hospital has fallen in love with adorable Milton. His feet rarely see the floor or the inside of his kennel because he is so popular. In fact, one of his Vets is so smitten with him that she has decided her Family would not be complete until he joined her pack. I am happy to report that dear Milton has been adopted and is being loved and spoiled rotten, just the way it should be. Other than Milton's deformed leg and lots of fleas, which have both been taken care of, he is now ready to go to his new wonderful Family.
Carolina Vet Specialists has some of the best Vets, Surgeons, Vet. Techs and Staff. They love our pups and always go above and beyond for them. In fact, six of our abused dogs have been adopted to someone that works there. They are the first people to step up and offer to help by fostering or transport. We love each Facility but the one in Matthews, NC is our favorite. Everyone there, from the person at the front desk to the person cleaning the kennels goes above and beyond for each of our pups. They know they have been abused and want to make sure while in their care, each animal knows they are loved. We drive a long way to put our animals in their skilled, loving arms because they go above and beyond each and every day for an animal in need. Give the shout-out on their Facebook page and let them know how much we appreciate all they do for our pups. Their link is below.
https://www.facebook.com/Carolina-Veterinary-Specialists-Matthews-172056816144447/
We are still taking Donations for adorable Milton to finish paying off his bills. Any Donation is greatly appreciated. The hospital is already filling up with new cases of ours we will need to post for. Thanks for caring and making Milton's Journey to find Love, possible.
Learn about our other amazing animals