Nestle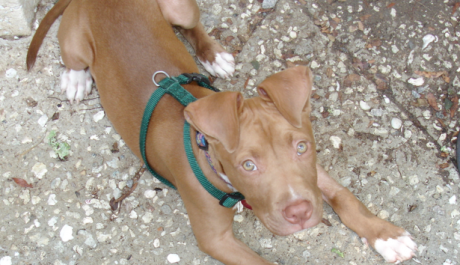 These pictures are the reasons why we do what we do.
Every animal has a right to life, no matter what the cost.
Noahs Arks is always being asked to help with stray pits that end up in the wrong hands. This sweet pup is one of those cases. He ended up in a shelter that was going to put him down by the end of the day if he wasn't pulled to safety. We pulled him and have him at the vet now being boarded and checked out. It appears he does have Parvo. I have instructed the vet to immediately begin treatment. He will be with the vet for 7-10 days getting treatment.
We are still looking for a wonderful forever home for Nestle. He is still completing his treatment and is doing great. He will be through with all his treatment, shots and will be fixed before going to his new home. All costs will already be taken care of. He is so sweet. His coat feels like velvet and he has the most beautiful green eyes.
Thank-you for all the gentle souls that helped with his care and donations.
We have found a wonderful forever home for our sweet Nestle. He has been neutered and is now being treated for demodex and ringworm. This is one sweet dog. He is slowly getting over his medical problems and will be living the good life soon. I don't think I have ever been around a sweeter dog than this one. Loves to play and not an aggressive bone in his body.
Learn about our other amazing animals