PEPE (Cairn Terrier Mix)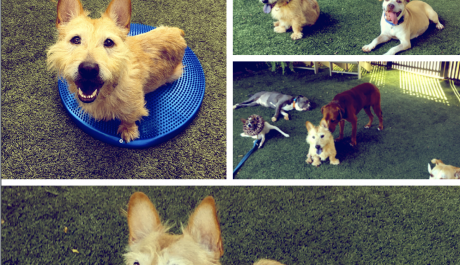 Adorable PEPE is doing amazingly well since he had his surgery. He is no longer taking any pain medication and is walking without favoring his leg. He is still on strict exercise but will be off that in the next two weeks.
Sweet is how we would describe this adorable pup. He is happy and loves everyone he meets. He gets along great with all of our dogs and would make a wonderful member of any household. Pepe steals the hearts of everyone he meets with those big ears, short, squatty legs and purple, black tongue. If you are looking for a new four-legged member to join your Family, Pepe would be perfect.
All Applicants must fill out our Adoption Application to be considered. The first 30 days is Foster to Adopt to make sure the pup does well in his or her new home. If all goes well during the first 30 days, the Adoption is official. We also take back any animal that does not work out after the animal is Adopted. This way, we do our best to ensure each animal is loved unconditionally and not set up for failure.
We got very little in Donations for dear Pepe. If you haven't donated and would like to help us with his bills, we would greatly appreciate it. Thanks for caring and making it possible to save Pepe and other animals that have been hit by car and discarded by their Owners. Dogs will be Dogs, but it is the Owners responsibility to keep the animals safe. If an accident does happen, please, DO NOT discard your Family Pet like he is Garbage. You are the only Family he knows, and he counts on you to keep him out of Harm's Way just like a child does. Work out something with your Family Vet so you both can be partners in saving a Life.
Thanks for caring and being the Good in the World that loves our animals unconditionally. We have three new critical care cases that have just arrived the hospitals, and each one is a hit by car that belonged to someone that has discarded them. We will post as soon as we get their prognosis and medical plan.
Learn about our other amazing animals