PIPPA (Mini-Schnauzer)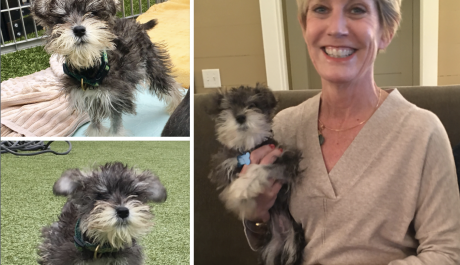 I am happy to report that dear Pippa did beautifully with her liver shunt surgery. She was very swollen and uncomfortable for the first week, but after the swelling went down, she was back to her normal, playful self. We had her on restricted exercise until her stitches were removed, but since then, she has been able to run and play.
Pippa had to stay in the hospital for several days after her procedure because she was at risk of having a seizure which could happen after the surgery. She was closely monitored in ICU for any abnormal activity. I am happy to report that nothing out of the ordinary happened. Dr. Seibert feels her chances of having a seizure now are minimal.
Dogs with liver shunts can develop new ones, but since we feel Pippa's was genetic, we do not believe she will. She will have to remain on her special diet for a couple of months until her surgeon feels she is out of danger of having a seizure. Blood tests will be done to determine if her liver values are in the normal range.
The other great news is that Pippa is Adopted. We had lots of great people interested in this special pup, but one person stood out as someone that could take care of Pippa's Medical needs if anything should happen from her procedure. Pippa will be surrounded by other pups that will give her the freedom to play to her heart's content.
This sweet little girl has already stolen the hearts of everyone in Beaufort, SC during her daily strolls around the neighborhood. The good news is she is close enough for us to check in on her to make sure she is not having any new medical issues.
Thanks for helping us save this adorable little puppy. As cute and sweet as Pippa is, she was going to die without this procedure. Your generosity gave her the Gift of Life. Thanks for caring about Pippa and all of our other Medical Abuse and Neglect cases. We greatly appreciate your love and support. Have a blessed 2019.
Learn about our other amazing animals