RIFF RAFF (Beagle Mix)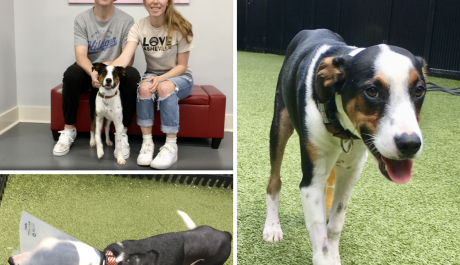 I am happy to report that dear Riff-Raff has done incredibly well since his surgeries. He is now able to run around and play to his heart's content. It seems like he was going to have to wear the splint on his leg forever. Riff-Raff hated the splint, so it became a challenge to keep it intact. For almost four weeks, he had to have a collar on to prevent him from chewing on it. Even with the collar on, he sometimes managed to get to his leg.
This vicious cycle kept each of us on our toes. The other problem was we wanted him to be able to play with some of the other pups during this time in a controlled small area. After a short period, they would start chewing on his brace. I don't believe we have ever had to change a bandage more than we have had to change this adorable pups bandage.
The day his Surgeon finally said the Splint could be removed was the happiest day for all of us. Riff-Raff was free of the collar and the brace in one clean sweep. He ran, play and wrestled for most of the day with all of his buddies. You would never know how broken he was from the day we got him to today. He is an entirely different dog. He went from not being able to stand to run around playing like a puppy.
The other great news is we have a wonderful Family that loves and adores him. He is well and has a Family all his own. It doesn't get any better than that. Your continued support and generosity made his fantastic Journey to Heal and find Love, possible. Thanks for giving Riff-Raff the Gift of Life with unconditional Love.
Learn about our other amazing animals