ROADY (Lab)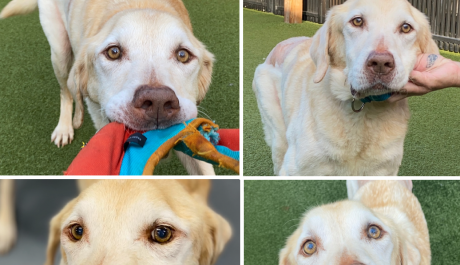 Roady is doing fantastic for a dog that has been through so much. No matter what comes his way, he bounces back with more spring in his step than he had before. His white blood count (WBC) drops, but he still feels great, and he rebounds quickly. Dr. Rissetto has been concerned about the lumps we keep finding on Roady, but she is encouraged every time she wraps her arms around this beautiful boy.
Roady's Life was terrible prior to us taking him. The Life he has now is so full of unconditional Love that our sweet boy is thriving. He is happy and joyful every day. He goes for walks and loves when he meets someone on the way for a pat on the head. To say we are smitten with this beautiful boy is an understatement. Roady is fabulous in every way. How anyone could abandon him to be euthanized and walk out the door is beyond cruel.
Dr. Rissetto will see Roady this coming week at CVRC to do bloodwork and determine if he will need to have his chemotherapy changed or continue on the one he has been using. We still have him on Zoledronate, which he is responding well to. Dr. Rissetto will also take a biopsy from the most recent lumps that have popped up on our sweet boy.
We already know he has cancer and are prepared for it to spread. Our goal is not to do anything that would take away from his Quality of Life. So far, Roady is thriving in ways that we did not think were possible. We were told Roady would not live very long based on his condition. I did not want this special dog to die not knowing Love. He could still die, but I wanted him to love his Life so much that he would fight to be here.
Roady's favorite thing in the World is playing Tug of War. He would tug on a toy or rope all day long if he had someone connected to the other end. He loves interacting with people and is your Shadow for most of the day.
We know Roady's Time on this Earth will be much shorter than we would like. What we also know is this fantastic dog is having the Time of his Life. He is going to soak up as much Love as possible in the time he has left. Thanks for making his Journey to Heal and find Love possible. Your support is greatly appreciated.
Learn about our other amazing animals