ROSE (Blue Pitty)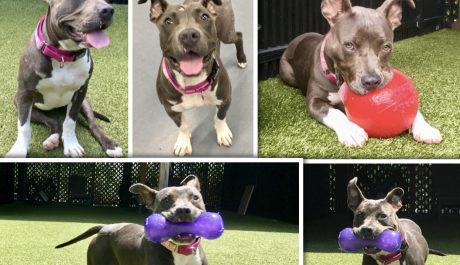 I decided that we all needed some Good News this morning. Our very special Rose has finally been approved to run and play to her Heart's Desire. X-rays were taken, and her Surgeon released her from restricted leash walks. As you can see from these pictures, this one-year-old Pocket Pitty loves to run and jump. Jumping seems to be her favorite thing in the world to do.
Rose's x-rays showed that she has excellent calcification where her break was. The area has filled in nicely and is not given her any issues whatsoever. It is amazing how a dog that could not walk can come back and be running around and playing as if nothing ever happened to her. Dr. Mike at CVETS did a fantastic job with her mangled leg. Her scar is the only indication she ever had anything wrong.
Rose is a bundle of energy that needs to be with an active Family that loves to go on walks, long hikes and is a jogger. She will become your best Friend and Pal. She loves other dogs but should not be with a headstrong dog since she always wants to play.
Rose is sweet and loving to everyone she meets. She has the typical Pitty personality that loves everyone. We have worked on her manners, but she would benefit from on-going training since she is still considered a PUPPY. If you think our dear Rose would be perfect for you and your Family, please drop us a note with any questions you might have and then fill out our online Adoption Application.
Thanks for helping us with this beautiful girl. Her leg was saved because of your generosity.
Learn about our other amazing animals