SANDY ( Golden/Lab)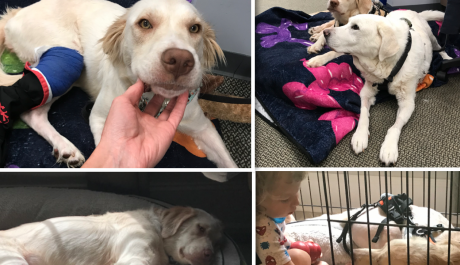 I am happy to report that sweet Sandy is starting to walk without her harness. She has had a rough six weeks recovering from the three surgical procedures to put her legs back together. In the beginning, the best way to describe Sandy was she did not have a leg to stand on. Sweet Sandy was banged up pretty badly when she ran in front of an automobile.
Dr. Rachel Seibert offered to foster Sandy while she was recovering. Sandy gets to go to work with her at CVRC every time she goes in. Any extra medical care or tests can be done while she is at work. Several weeks after surgery, Sandy had to be admitted to the hospital. She had developed a fluid pocket under one of her incisions. She developed an implant-associated infection of her tibia.
Sandy had to remain in the hospital to get her infection under control. Removing her plates was not a possibility at this time. Her bone has to have filled in and become strong before the plate can be removed. The pins in her leg do not appear to be involved in this infection. Fingers crossed, they do not become compromised.
Doing as much surgery as we did on Sandy in such a short period brings its own set of problems. Infection at the surgical site is one, but the most significant threat is an infection on the plates or pins used to repair the leg. Infections can prevent bone from forming. The best news is Sandy's leg is healing, but x-rays showed she has several more weeks before the plates can be removed. More x-rays will be done to determine the bone density and strength before the pate is removed.
We are still paying for Sandy's surgeries and have new medical bills on top of that. Please, Donate whatever you can so we get her bills paid before she has to go back into surgery. Thanks for helping us put Humpty-Dumpty back together again.
Learn about our other amazing animals