SHADOW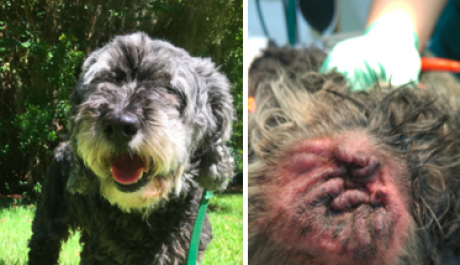 EASLEY, SC....Meet Gemima Rose (Gemmi's) Sister, Shadow. The Family that had Gemmi later adopted Shadow when she was two years old. Both dogs are eleven years old. Sweet Shadow is as cute and adorable as her sister. Unfortunately, she also has lots of medical issues. Her main concern is that her ears have not been taken care of, and she has developed terrible ear infections and Cauliflower Ear. The condition happens in dogs that have long floppy ears. Fluid-filled hematomas form that becomes firm and thickened over time. The dog eventually loses her hearing if the condition is not corrected. Shadow has already lost a lot of her hearing. We do not want her to become deaf because of this.
The other issue is that Shadow is allergic to normal vaccines and cannot have any. She becomes lethargic and cannot function well after having them and has to be picked up and taken outside for the next couple of weeks. We are doing some research to see what could be causing her reaction. It does not appear to cause her a breathing reaction based on the notes from her original Owner and could be the way the shots are given. Either way, we are doing our due diligence to make sure she is always safe.
We are going to do everything possible to keep these two pups together. Their lives have been turned upside down. The thought of them being separated is not something we are considering at this time. We need to get them well, so they can go to a wonderful Family that loves cute adorable cockers.
Please, Donate toward Shadow's Medical Bills so we can get her well and do everything we can to prevent any further hearing loss. If you love Cockers, these two will steal your heart. Thanks for caring and making their Journey to heal and find Love, possible.
Learn about our other amazing animals