Smuckers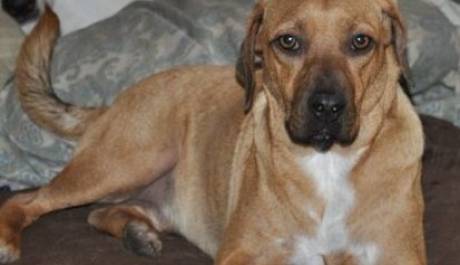 GREENVILLE, SC......Sweet SMUCKERS is an adorable 18 month old Shepherd mix that was brought into the Emergency Hospital in Greenville after being found in terrible condition. We will never really know exactly what happened to this sweet pup but it appears he was attacked by another dog by the puncture wounds on his body that appear to be dog bites. His jaw has been completely snapped in two in the front part of the jaw and is hanging down. That is the reason for the muzzle, to hold his jaw in place. There is nothing but skin holding the jaw. We see a lot of broken jaws from dog bites and that is what we believe happened to SMUCKERS. The vet thinks it could have been a dog fight and then he was hit by a car. We think is was a dog fight because he does not have any internal breaks or abrasions from road rash. We also think he was in a submissive position when he was attacked since all of the bites are on the underside of his belly and neck. We were contacted late in the day by Greenville and it was either take Smuckers or he had to be euthanized because his injuries were too traumatic. We immediately had him taken to the Surgical Veterinary Hospital we use in Columbia, SC to have emergency surgery done on this little pup. The lower front half of his jaw had to be removed because it could not be reattached. He will look like he has an overbite but will be able to eat, drink and bark just like he could before. He will not be able to use his front teeth like he could before because his lower front teeth are missing but that will not affect his ability to eat and that is what we were most concerned with. Smuckers is an adorable puppy that will make a wonderful member of a family that has children. He loves to play and we have to settle him down until his jaw has healed. We would love to throw a ball to him but it is just too soon.
SMUCKERS is doing great since his surgery. He is glad to have that day behind him. Two days after surgery he was ready to be a normal puppy and is running around and playing just like nothing has happened. He is able to eat normally without any problems and drink normally. The only thing he can't do is pull the fur off a tennis ball which is what a lot of puppies and dogs love to do. He doesn't have his small front teeth that would enable him to do that. Other than that he is as normal as can be. he now has an adorable little overbite that is nothing but a reminder of a past that no longer exists for him. He will be ready to go to a wonderful new home in two weeks. Smuckers loves everyone and will make a wonderful member of the family. He you want a companion to love on all day long, well look no further because he just loves to be cuddled and loved on.
SMUCKERS is ready for his new home. He is the best dog and loves playing with kids and other dogs. He has always been our meeter and greeter for all of the new dogs. He shows them the ropes. He now deserves more than anyone to be pampered by some lucky Family. This is his time to be the center of attention.
Learn about our other amazing animals