SNOOPY (BEAGLE)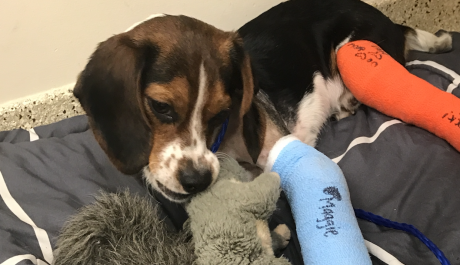 Our sweet little Snoopy is doing well since all of his surgeries. Beagles seem to have the most amazing attitude when it comes to being injured. All they seem to care about is getting outside to sniff and put their noses everywhere they can to find some unsuspecting critter that is minding his own business. The only issue we are having is that Snoopy's leg was injured for so long that he is having a hard time believing that it is fixed and that he can use it. He prefers to go around on three legs instead of four. We are making him use the leg by slowing him down on his walks. Tripods prefer speed when they are running around. When an animal has four good limbs but memory of an injury, it takes them a while to process the fact they are no longer in pain. They just assume the only reason why there is no pain is that they are not using the leg. Our smart little boy is beginning to realize the leg is better and functional. He should be using it all the time by the end of the week.
We have been hit with some major medical abuse cases that have had multiple breaks that needed to be repaired. Snoopy had multiple injuries. Each leg requires major surgery to fix before they can repair the next leg. Each surgery is costly. We have gotten very little in Donations for dear Snoopy, and he is one that had to have two surgeries. We have not received enough Donations to even cover the cost of one procedure, much less two and a weekend in ICU. Please, Donate whatever you can so we can keep doing what we do and save more pups like dear Snoopy.
Our little Wonder Boy will be ready for a new home in a couple of weeks. He loves people, dogs and just about any critter he can get to play with him. He is a typical fun-loving beagle that we adore. If you think he would be perfect for your Family, please, fill out our Adoption Application online to be considered for him or any of our pups.
Thanks for caring and making his Journey to Heal and find Love, possible. We greatly appreciate your Love and Support.
Learn about our other amazing animals