Sophia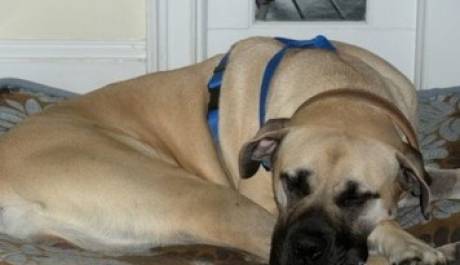 This sweet beautiful 1 1/2 year old mastiff was hit by a car and brought into Animal Control in Greenville, SC. Her pelvic was crushed and she desperately needs surgery or will be euthanized. The hold time for an injured animal that has been picked up is 24 hours. If the animal has not been rescued during that time, the animal will be euthanized. Sophia went to the last second and no one stepped up. We just couldn't let an unfortunate accident cause this beautiful sweet creature to be euthanized, so we stepped up to save her life. She has a left acetabula fracture that has been plated. Her left rear leg has some neurological damage from the impact of the car and will take longer than normal to heal. She will require lots of physical therapy with that area to restore the nerve damage.
October 3, 2009
Our big baby is doing wonderful. She is finally putting some weight on her back leg and is in a new wonderful home that is spoiling her rotten. She is a beauty that moves around more and more each day. She is now called DIXIE.
Sweet Sophia is with her new family and is now called Dixie. She is being spoiled rotten which is exactly what we expect from all our new Guardians. This is a perfect match for sweet Dixie. The family has had mastiffs before and just love them.
Learn about our other amazing animals