Stanny & Ollie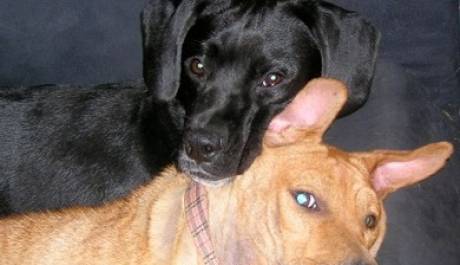 These two beautiful pups are 7 months old. Both dogs were run over by a car. Animal Control says they do not know who ran over the dogs just that they were severely injured and the owner is accused of cruelty for doing nothing and not getting them medical care. The bottom line is that both dogs are losing a leg for this incompetence. Stanny's front left foot is completely mangled and destroyed. Ollie's rear leg is so destroyed that part of her back leg is completely gone. The muscle and bone are just dangling there. How these pups have been able to endure this for three days is just amazing. They are incredibly sweet dogs that do not have one mean bone in their body and for someone to do this to them is CRIMINAL. Stanny is a black lab mix and Ollie is a boxer mix. They both weigh approx. 40 pounds. These are considered larger amputations in surgical terms and therefore cost more to do plus all the aftercare.
OLLIE
This kind, gentle pup had her leg amputated Friday.. She was terribly sick from the infected leg and it had to come off immediately to save her life. The first time she tried to walk she was a little cautious. The second time, she took off like a bullet and we had to catch her. Her leg was so mangled and had been that way for so long that she is happy to be rid of it. She is just the sweest little pup. She and her brother Stanny are litter mates that are about 6 months old and weigh around 40 lbs. Ollie is available to be adopted. Stanny's leg was amputated today and he is doing well. Will post his pic as soon as we get one.
OLLIE
This sweet young pup was the first to have her leg amputated. She is running around like she never had a fourth leg. Gives eveyone she meets lots and lots of kisses She and her brother Stanny are learning to walk on a leash as tripods. They are both wonderful young dogs that deserve that special family that just adores them. They can be adopted separately. They are both at North Greenville Animal Hospital. We need fosters for both of these wonderful dogs to continue that rehabilitation.
STANNY
This sweet young man had his front leg amputated on Monday. He is doing wonderful. It is a little harder for him to adapt because of the leg that was removed. That doesn't stop him from giving it his all. He is just as sweet and loving as his sister. They are both at North Greenville Animal Hospital waiting for that perfect family to come along and adopt them. They can be adopted separately.
August 9, 2009
These sweet pups are doing wonderful. The are getting around without any problems since their amputations. They are now in Vermont with a foster there.
August 19, 2009
Both dogs have gone to a foster/rescue in Vermont. Ollie has already been adopted and Stanny is still waiting for his new forever home. They are both doing wonderful giving and getting lots of love and kisses.
September 12, 2009
Stanny is doing wonderful. He has some wonderful friends from Noah's Arks that are keeping him company. He and Ms. Reba from here have become best of buds.
Learn about our other amazing animals